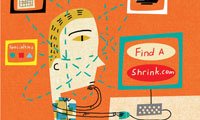 Yesterday's Patients Are Today's Educated Consumers
September/October 2013
The expectation of a full caseload of clients who don't question the length or expense of treatment belongs to a former age. Like it or not, therapists who wish to stay in business need to understand the educated mental health consumers of today.
Bonus - Read the entire article FREE!
It's the perfect time to reinvent your private practice
July/August 2007
Although business as usual may no longer be an option for therapists, the adjustments required to stay afloat could prove to be incredibly generative, not just for individual practices, but for the profession.