Scott, a successful lawyer with a wife and two children, showed up at my office for his first session confused and angry about his relationship with pornography. He could see the damage his Internet porn habit was having on his marriage, health, and career, but he couldn't stay away from it. His story is typical of men and women—of all ages, backgrounds, incomes, and lifestyles—who are seeking counseling for serious problems related to pornography.

When I began counseling in the mid-1970s, cases like Scott's were rare and almost inconceivable. Hardcore pornography was difficult to obtain. But in recent decades, new electronic technologies, such as cable television, computers, and iPhones, have transformed it into a product that's available to anyone—anytime, anywhere, and often cheap or free. It's become a substantial part of our economy, boasting annual revenues in excess of $13 billion in the United States and $100 billion worldwide.

The revolution in accessibility has led to record consumption. According to statistics on the Internet Filter Review site, 40 million Americans visit Internet porn sites at least once a month. Some porn users visit sites for only a few minutes at a time. Others, like Scott, visit porn sites daily, spending more than 15 hours per week. One-third of all downloads each month and one-quarter of all online searches each day are for porn.

Changes in how people access and use pornography have taken the therapeutic community by surprise. The explosion in porn use has happened so fast that many therapists have been caught unprepared; they may not yet comprehend the extent of the problems porn can cause, or how deeply its use can harm individuals and their intimate partners. Despite the increase in the number of people suffering from anxiety, depression, sexual problems, relationship distress, and other serious consequences of habitual porn use, few therapists feel comfortable and confident addressing porn-related concerns.

How We Feel about Porn

Pornography draws strong responses—from the public at large and within the therapeutic community. Many of us have such strong feelings about pornography that we automatically label, condemn, or reject anyone who sees it differently. If we're critical of porn, we might judge people who like it as "excessively permissive," "exploitive," "addicted to sex," or "misogynistic." If we're supportive of porn, we may see those who don't share our view as "sexually uptight," "religiously conservative," "radically feminist," or "against free speech." Unlike other common mental health concerns, such as depression or substance abuse, we have no reasonably coherent and agreed upon clinical perspective for what constitutes a "porn problem" or how to approach it.

Recently, at a professional training, I asked a group of therapists to share their knee-jerk feelings about pornography. The answers came quickly and from all over the emotional map: "disgusted," "excited," "angry," "anxious," "saddened," "afraid," "horny," "repulsed," "ashamed," "shocked," "amused," "curious," and "ambivalent." I wasn't surprised by the range of feelings: I've had all those feelings myself, even though I've been a sex and relationship therapist for 35 years.

In the past, understanding and dealing with our personal reactions to porn may not have been that important to our success as psychotherapists. But today, when clients who develop problems with porn range from 90-year-old men to 9-year-old girls, examining our own attitudes about porn is critical to our success as healers.

A Therapeutic Intervention

My perspective on pornography underwent a shift in the early 1980s, when, as a newly married and practicing clinical social worker, I started specializing in sex therapy. I'd initially worked as a drug-and-alcohol counselor, but switched to sexuality counseling when I noticed a strong connection between people's self-esteem and self-confidence and how good they felt about themselves sexually.

Sex therapy was a new, exciting, and much-needed clinical specialty, providing solid information, advice, and a safe place to discuss and get help for a wide array of sexual-functioning problems and concerns. Leaders in the field—people like William Masters and Virginia Johnson, Lonnie Barbach, Helen Singer Kaplan, Joseph and Leslie LoPiccolo, and Bernie Zilbergeld—were opening doors and providing information that had long been needed.

I began to consider pornography as an intervention that could be used for educational and therapeutic purposes. In sex therapy manuals, trainings, and conferences, it was touted as a product that could help clients reduce inhibitions about sexual practices, avoid boredom, and spice up their sex lives. It was considered "harmless visual stimulation"—an easy way to expand sexual awareness and safely explore sexual fantasies and desires, inside or outside a committed relationship.

A Cousin of Sexual Abuse

As time progressed, I became increasingly uncomfortable with pornography. On the few occasions when my husband and I saw pornography together, we now found it disturbing and distracting to the soul-stirring physical love we regularly enjoyed. The dialogue in porn didn't make us blush, but the interactions seemed increasingly humiliating and violent, with behaviors such as a man ejaculating on a woman's face becoming more common. Rather than inspire, pornography appeared to compromise one's private erotic imagination and values, blurring boundaries between fantasy and reality and lowering standards for sexual interaction.

At the same time I was experiencing personal concerns, many of my clients began complaining about pornography. They appreciated well-made, instructional, sexual-enrichment books and videos and sexy romantic novels, but their contact with pornography often left them feeling "dirty," sad, disgusted, or angry. They told me they were turned off by its lack of human caring, its racism, and especially the way it depicted women and children as targets for sexual exploitation.

In the mid-1980s, when I began specializing in treating survivors of sexual abuse, I became increasingly aware of the role that porn had in abuse. One client said that when he was a teenager, a 50-year-old next-door-neighbor man had "groomed" him into oral sex by showing him a stash of pornographic magazines. Women told me their perpetrators—often fathers, grandfathers, brothers, and boyfriends—used pornography as a template for the specific type of sexual behavior they coerced them to perform. Some clients recalled being forced by their perpetrator to pose for pornographic pictures during their experiences of abuse.

My primary concern about porn wasn't that it was sexually graphic, explicit, or hot: it was that porn conveyed harmful ideas about sex and could lead to hurtful and ultimately unrewarding sexual behaviors. During the 1990s, I switched from recommending porn to suggesting scenes in popular movies, such as the scene in Mississippi Masala in which Denzel Washington makes love to a woman while singing "Happy Birthday" to her. This scene, and others that emphasized mutual caring and readiness, showed highly erotic kissing and full-body, skin-to-skin contact, and celebrated sex as part of a larger relationship, were much more consistent with what I thought could arouse clients without causing them harm.

A Possessive Mistress

I may have thought I was done with porn, but it wasn't done with me! In the late 1990s, people began calling my office seeking help for problems they felt had been caused by porn use. One after another, the requests came in, often several per week. Some pleas for help came from porn users themselves, worried about their own dependencies and the possible repercussions—for example, losing interest in their partner, experiencing a compulsive need for sex, and getting into risky and hurtful sexual practices. But many calls came from the intimate partners of porn users, and these callers, primarily women, were in obvious emotional distress. Engagements had been broken, weddings and plans to have children had been called off, and otherwise successful, long-term marriages were teetering on the brink of divorce.

The reactions of intimate partners to what was happening was almost identical to that of clients I'd counseled whose partners had been having affairs. Women came to me shocked and traumatized when they'd learned about their partners' relationships with porn. I remember one in particular who clutched her chest as she sobbed, "His betrayal feels like a knife has been thrust in my heart." It didn't matter that her husband's "mistress" was on celluloid and pixels on a screen; he'd still betrayed her by channeling his sexual attention and energy away from her, onto someone else, and then lying about it! She felt angry, hurt, alone, powerless, and unable to compete with the perfect, airbrushed young bodies of the women featured in the videos she'd found her husband masturbating to. Her trust in and respect for him were gone, and she told me she felt as sexually abandoned, insulted, and betrayed as if he'd been with another woman. As with an affair, female partners often spoke of their partner's porn use as absolutely incompatible with their ability to stay in the relationship.

A Drug

Soon after the turn of the new millennium, a new client helped me see what else was at play that made quitting porn so difficult, even for people who wanted to do so. Sam, a shy young man whom I'd been seeing for a few weeks, told me, "Doing porn feels like an incredible rush of life blowing through my veins, and the good part is, I can always go back for more." His description of his porn experience sounded eerily similar to the language used by the patients with drug and alcohol problems I'd worked with through the years. Over time, more of my clients experiencing the impact of porn in their lives began using words and phrases usually associated with hardcore drug addiction. They often referred to using porn as a "high" and a "rush." They started needing a stronger product in higher doses to get the same effect, and when they decided to quit, they frequently complained of continual cravings, preoccupations, and sensations of "withdrawal." "I tried going 'cold turkey' with porn," one man told me, "but the urges were stronger than when I quit cigarettes and cocaine."

My newfound knowledge of pornography's druglike effects helped me bring more compassion to the issues porn users faced. Not only were their partners in distress: anyone trying to quit using porn faced his or her own difficult emotional and physiological struggles. I started recommending that clients supplement their individual and couples counseling work with attending 12-step sexual addiction recovery programs, such as Sex Addicts Anonymous, Sexaholics Anonymous, and Recovering Couples Anonymous, or porn recovery groups of their own choosing. With my background in drug and alcohol counseling, I know that support groups can be critical to successful recovery, helping overcome social isolation and shame, building accountability supports, and sharing triumphs.

A Threat to Public Health

I never wanted to be out beating the drum against pornography. In the beginning of my career, if anyone had suggested I'd be here now, I'd have laughed at them. But from my own clients, my research, and my personal experience, I've come to the conclusion that pornography is moving from an individual and couples' problem to a public health problem, capable of deeply harming the emotional, sexual, and relationship well-being of millions of men, women, and children.

As therapists, perhaps our most important role is in providing clients a safe place to discuss and examine their concerns. It's best to analyze porn-related situations on a case-by-case basis, taking into consideration a client's personal values, sexual experience, sexual orientation, and relationship status. I often rely on the following questions to help clients increase awareness and begin to evaluate their involvement with porn. Is porn increasing or decreasing your self-esteem and integrity? Is it upsetting or alienating your intimate partner (or harming your future chances of being in a healthy relationship)? Have you become preoccupied, out-of-control, dependent on, or compulsively engaged with porn? How is porn shaping your sexual thoughts, desires, and behaviors? What negative consequences could occur if you continue to use porn?

Only when clients determine they want help quitting porn do we proceed in that direction, utilizing the dynamic strategies that exist for achieving sexual recovery and healing. As mental health professionals, I believe we're most helpful when we resist our tendencies to automatically condemn or advocate porn. Our effectiveness depends on our ability to join with clients in regularly evaluating porn's impact on their lives. While I remain aware that porn use isn't a problem for everyone, I keep in mind that, given its unprecedented power and accessibility, it can become a problem for anyone.
***
Wendy Maltz, LCSW, DST, is an internationally recognized psychotherapist, sex therapist, and author of numerous books on sexuality, including The Porn Trap: The Essential Guide to Overcoming Problems Caused by Pornography.
This blog is excerpted from "Out of the Shadow," by Wendy Maltz. The full version is available in the November/December 2009 issue, The Porn Explosion: How Are Therapists Reacting?
Photo © Kevron2001/Dreamstime.com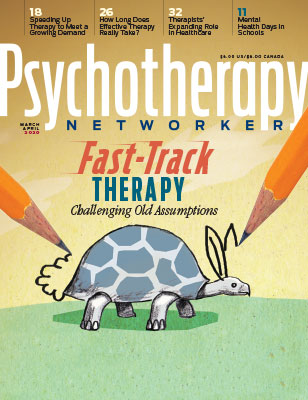 Get the latest issue of Psychotherapy Networker
Subscribe for a full year of clinical insight and creative inspiration from the field's innovators like Brené Brown, Bessel van der Kolk, Dan Siegel, Esther Perel, and many more. Plus, earn 2 CE hours every issue!