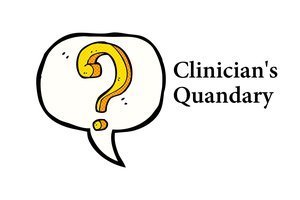 Ever heard about a tricky clinical scenario and thought, "I know exactly how I'd handle that"? In the spirit of sharing and community, we're introducing a forum called Clinician's Quandary, where you, the reader, offer your take on how you'd address a clinical dilemma from a real practice.
On the first Tuesday of every month, we'll pose a Quandary and collect responses. Top answers from the previous month will be posted that same day and shared with your colleagues worldwide. See below for submission details.
Here's this month's Quandary:
I recently moved to a small town and found out that one of my client's children attends the same school as my nine-year-old son. The two get along well, and our family was recently invited to attend a barbecue at my client's house. I feel uncomfortable attending, especially since my client has spoken to me about issues in her marriage, but don't want to jeopardize my son's friendship or my chance at having a social life in this new town. Should I stay home or go?
We want to hear from you:
Send your response in 300 words or less to info@psychnetworker.org. Include "Clinician's Quandary Submission" in the subject line.* Include your name and country, city, or state.

Please provide detail in your response that paints a picture of what your solution looks like in practice. Don't be afraid to get creative!

Please allow up to one month for our editors to review your submission. We'll let you know by email if your response is selected for publication.
Stay tuned to our pages on Facebook, Twitter, and LinkedIn, as well as to our Week in Review e-newsletter for upcoming Quandaries.
*Responses may be edited for clarity.
Check out our the Clinician's Quandary archive!
Topic: Professional Development
Tags: case study | Personal & Professional Development | Professional Development