As a practicing therapist today, it's easy to succumb to the allure of brain science, says neuropsychologist and author Rick Hanson. Mirror neurons, the amygdala, and hormones have all been labeled culprits for behavioral shortcomings at the expense of more ground-level investigation into our clients' thoughts and feelings.
But that doesn't mean brain science doesn't have something to teach us, Hanson says. "Inner strengths are built out of brain structure," he explains. In the following video, he shares why, to develop these strengths, we need to manage the "two wolves" in our heart—one of love, and one of hate.



Rick Hanson, PhD, is a neuropsychologist and New York Times bestselling author. A Senior Fellow of the Greater Good Science Center at UC Berkeley, he's been an invited speaker at Oxford, Stanford, and Harvard, and taught in meditation centers worldwide.
"A child comes to feels securely attached by repeatedly internalizing experiences of feeling seen, valued, and cherished," Hanson explains. "An adult grows compassion by installing empathy, kindness, and warm-heartedness." In this way, he adds, we can not only cultivate inner strengths in ourselves, but in others too.
"People come to a therapist because they want something to change," Hanson says. "They want to feel or act differently, understand themselves or others better, or relate to things that won't change in a more spacious and accepting way. These changes of mind, of course, require changes of brain."

***

Did you enjoy this video? Check out Hanson's article on psychotherapy's fascination with brain science in "The Next Big Step." You might also like "The Motherhood Marathon," in which he explains how to help clients who have been overwhelmed by motherhood.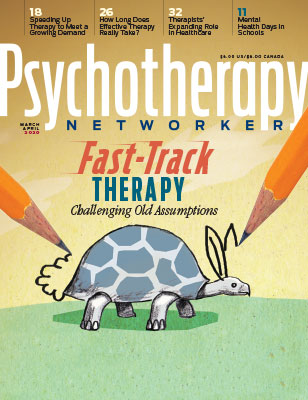 Get the latest issue of Psychotherapy Networker
Subscribe for a full year of clinical insight and creative inspiration from the field's innovators like Brené Brown, Bessel van der Kolk, Dan Siegel, Esther Perel, and many more. Plus, earn 2 CE hours every issue!