Most people think the field of trauma treatment began around 1980, when the diagnosis of post-traumatic stress disorder (PTSD) was first included in the DSM as a result of a movement among Vietnam veterans. But one could actually go back well over a hundred years, to the work of Charcot and Pierre Janet at Salpêtrière in Paris. In fact, Janet in particular articulated most of the relevant issues about trauma that are being rediscovered today, such as getting stuck in reliving trauma, dissociating, and having trouble integrating new experiences and going on with one's life. Janet primarily used hypnosis with hospitalized trauma patients to help them put the experience to rest, but his work was largely eclipsed by that of Sigmund Freud, in part because fully recognizing the devastating impact of trauma tends to be too overwhelming for mental health professionals and politicians alike. For example, Freud and his mentor, Joseph Breuer, wrote some outstanding papers on the nature of trauma in the 1890s, but they later repudiated them because suggesting the occurrence of incest in upstanding middle-class families in Vienna was so disturbing to their colleagues.
Ever since, trauma has had a history of cycling between being recognized for the devastating, long-term role it can play in people's lives and then going underground in the face of resistance to that idea. The horror of trench warfare led to wide recognition of the symptoms of shellshock during World War I, but in 1917 the British general staff put out an edict forbidding the military to use the word shellshock to describe the condition, because they assumed it would undermine the troops' morale. The same thing happened after World War II, when the world quickly forgot the price that we pay for sending young men (and now women) into combat. Yet all the symptoms that we read about in the newspaper—suicides, drug addictions, family violence, homelessness, and chronic unemployment—have been well documented after every war within modern memory, starting with the American Civil War.
Nevertheless, in the 1980s, as a result of the work of many people like Charles Figley—a Marine vet from Vietnam, who wrote a book called Trauma and Its Wake and started the International Society of Traumatic Stress Studies—trauma began to attract more and more attention in mainstream psychiatry and psychology. Around that time, Judith Herman and I began to study the relationship between borderline personality disorder and self-injurious behavior and early years of trauma and neglect at the hands of caregivers. However, in the early 1990s, just as had happened in 1902, 1917, and 1947, as the study of the trauma movement began to gather steam, there came a backlash.
In this case, it came in the form of the false memory movement, which tried to discredit the stories of abuse that our clients told us by calling them the result of therapists' systematically implanting false memories in their minds. Much of this movement was fueled by the Roman Catholic Church as it was facing innumerable charges of priests' sexual abuse of children, and by psychologists who could make a good living in forensic settings disputing the allegations by victims of sexual abuse. After the suits against the church were settled, the false memory industry disappeared with it.
One of the results of the controversy surrounding the false memory backlash was that the trauma field got bifurcated into two parallel areas of development, with basically all the research funding being directed to the military and veterans. The other area of research—child abuse and neglect and women's studies—was underfunded and therefore unable to garner enough high-quality studies to determine scientifically how best to treat this population. As a result, our field became one of passionate claims, but little solid scientific evidence.
Nonetheless, some key developments (or, more precisely, in most cases, rediscoveries) have advanced trauma treatment. One has been the recognition of the role that dissociation plays in the aftermath of trauma and how, in various ways, treatment must address the personality structures that can compete or alternate with each other when someone is traumatized. Another major advance was the emergence of EMDR in the 1990s as the first approach that showed that we didn't need to rely on drugs or the traditional talking cure to get traumatized people to leave their traumatic memories behind. Similarly, body psychotherapists have recognized that "the body keeps the score" when it comes to trauma and have revitalized bottom-up approaches like Somatic Experiencing, Hakomi, and sensorimotor psychotherapy to help shut-down people get unstuck from the fight/flight/freeze response.

Through neurofeedback, we're exploring the capacity to rewire brains that are stuck in freeze and terror, and our first published studies of this process show how traumatized children and adults can learn to change how their brains regulate themselves. We've rediscovered that true change is best made when the mind is open. Mindfulness enables people to become attentive to their body and can enable them to feel safe. In fact, our NIMH-funded research shows that it looks as if yoga is more effective than any medication for treating PTSD.
Being able to be mindful is a necessary precondition for change. Hypnotherapists have long known that getting people into a trance state can facilitate the integration of trauma into their overall consciousness. More recently, Internal Family Systems and approaches that use mind-altering drugs like MDMA have demonstrated how to get people into altered states of consciousness where they can actually observe themselves and develop a sense of self-compassion that enables them to integrate their dissociated self from the past into in a calm state of mind in the present.
While all this has been going on, cognitive behavioral therapy (CBT) has accumulated the most research support, even though we know that the whole cognitive part of the brain shuts down when people are traumatized, triggering the primitive survival part of the brain. So using CBT with trauma is like telling somebody with an amputated leg to take up running. It can certainly give people a sense of perspective on their coping options when they're in the right frame of mind, but it has limited value with severe trauma.
The most commonly used CBT approach to trauma is exposure therapy, which assumes that desensitizing someone to something that used to trigger them is the best way to help them be less affected by their memories. The problem is that desensitization leads to a global lack of feelings and engagement, so when you get desensitized from your trauma, you also get desensitized to joy, pleasure, engagement, and everything else going on. Desensitizing people shouldn't be the goal of treatment: rather, we should help traumatized clients realize that Yes, this happened to me years ago, but not today; today is a different day, and I'm no longer the person I was back then. That kind of integration involves a neural network different from the neural network of desensitization.
My hope for the field of trauma treatment is that we learn how to help people bring their imaginations more fully to bear on their possibilities. For example, I'm involved with several theater programs for highly at-risk kids so they get to experience what it feels like to be somebody other than the identity that they've assumed. They can get the chance to say, "Oh, this is what it feels like to be a powerful general," rather than "Nobody likes me; everybody hates me; I'm going to get hurt."
I think theater and new techniques, like neurofeedback, can play an important role in calming the brain down and helping it become organized and more in touch with the body. In our culture, we too often rely on swigging alcohol and taking drugs to make ourselves feel better. Perhaps the most important contribution the therapy world, including the field of trauma, can make to the wider culture is to give people greater access to their innate self-regulatory systems—the way that they move, breathe, sing, interact with each other—so they can discover their natural resources to regulate themselves in a different way, especially when life gets challenging.
***
This blog is excerpted from "Trauma: Retreats and Advances," by Bessel van der Kolk, which appears in the January/February 2017 issue, The Connected Self: Therapy's Role in the Wider World.
Illustration © Bakhtiarzein | Dreamstime.com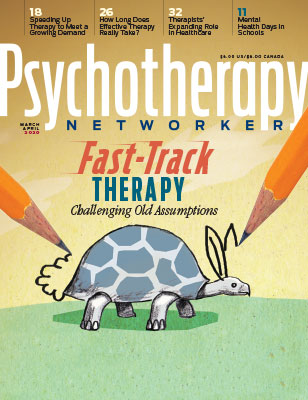 Get the latest issue of Psychotherapy Networker
Subscribe for a full year of clinical insight and creative inspiration from the field's innovators like Brené Brown, Bessel van der Kolk, Dan Siegel, Esther Perel, and many more. Plus, earn 2 CE hours every issue!