Intimate betrayal strikes at the core of our capacity to trust and love, violating the fundamental expectation that gives us the courage to connect deeply—the belief that the person we love won't intentionally hurt us. Whether the betrayal is through infidelity, emotional abuse, verbal aggression, or domestic violence, the psychological wound that cuts deepest is the perception that, ultimately, the person we love doesn't care about our well-being. When humans feel betrayed, we tend to withdraw from contact or furiously lash out in distress, just as do other mammals suffering intense pain.
Cases of intimate betrayal require therapists to reach a balance between validating their clients' pain and empowering them to improve their lives. If you don't validate their experience enough, betrayed clients will resist your best therapeutic efforts, feeling you don't understand their pain. However, if you validate their emotional suffering too much, they may get stuck in their intense and immediate pain. They may even feel that moving on in their lives means losing their identities, since many of them can't imagine themselves as anything except depressed, anxious victims.
Finding this particular balance was my challenge with Debbie, who'd been married for more than 13 years to a resentful, highly critical man, who'd recently taken most of their retirement savings and left her for a younger woman. Seven months after her divorce was final, Debbie came to see me following an incident in which she'd burst into angry tears after a harried grocery checker had sighed at her for swiping her debit card backwards. Her instantaneous expression of remorse and embarrassment had only made the situation more awkward for her, the cashier, and the shoppers in line behind her.
Taking a different tack, I assured Debbie that her feelings and reactions were normal—a natural response when a heart is scraped raw by a devastating betrayal. Rather than delving into her childhood, I proposed that we work on increasing her sense of self-worth while teaching her to embrace her deepest values. Through the process of becoming the person she wished to be, I said, she'd learn how to disarm her hair-trigger defense system.
Establishing a Healing Identity
The first therapeutic challenge with Debbie was to help her overcome her victim identity. Like so many who've suffered intimate betrayal, she'd come to identify with the bad treatment she'd suffered and all the defects and weaknesses she saw in herself as a result of it. To establish an alternate, healing identity—one that tapped into her resilience, deep values, and desire to improve her life—we began with an inventory of her strengths, which she decided were intelligence, curiosity, resourcefulness, adaptability, and integrity. Then we explored her deeper values, which she said were honesty, responsibility, spirituality, fairness, compassion, love, and appreciation of nature. When we sought out evidence of her resilience, she remembered a time several years before, when she'd recovered from a serious illness while dealing with the loss of her closest friend from breast cancer.
As this healing identity came into focus, Debbie could see clearly that she'd become bitter, anxious, and irritable during her marriage, not the kind of person she wanted to be. It isn't unusual for people to cope by mirroring the unwanted behaviors of those who've betrayed them. To combat this tendency and remind clients of who they want to be, I ask them to write a letter to themselves, stating how they'll behave differently from their betrayers. Debbie wrote, "He lied all the time; I'll be truthful in all my relationships. He cheated on me; I'll be loyal and sensitive to the well-being of those I love. He abused me; I'll be compassionate to those I love. He was manipulative; I'll be kind and supportive to those I love. He criticized me for reading too much; I'll enjoy learning."
**********************************************************************************
Are you treating partners who've lost the romantic spark? This FREE CE seminar with EFT pioneer Sue Johnson explains how to harness the power of emotion in couples therapy.
**********************************************************************************
Soon after writing her letter, Debbie decided to pursue a forgotten dream of launching an online macramé outlet, and she set a goal of volunteering at an animal-rescue operation once a month, which she'd enjoyed doing before her husband had ridiculed the activity as a "waste of time."
The Ability to Love Again
In the final phase of Debbie's treatment, the focus changed from developing a healing identity to making new connections, particularly with men. With clients at this stage, I often focus on the distinction between wise trust and its opposites: blind trust and suspiciousness. Wise trust recognizes that we're all frail creatures capable of betrayal in weaker moments. Blind trust denies this darker characteristic of human nature; suspiciousness exaggerates its presence. Wise trust in action involves a measured assessment and recognition that, despite the alarms triggered by old hurts, the actual probability of betrayal may be quite low if a person has demonstrated trustworthiness over time and under stress.
When Debbie was ready to start dating, we spent time carefully going over the signs of trustworthiness—or a lack of it—in potential partners. We discussed how to determine the likelihood of betrayal by ascertaining how someone responds to feeling vulnerable. When someone responds to a feeling of vulnerability by becoming angry, resentful, or depressed, he or she is likelier to betray you by shutting down, punishing, controlling, or seeking some kind of temporary ego boost through infidelity, impulsive indulgence, or deception. By contrast, someone who responds to feeling vulnerable by trying to improve the situation, connect, or instinctively protect is far less likely to betray you. Eventually, as Debbie began going on dates regularly, I gave her a sheet of paper to fill out to help her assess the probability of future betrayal, asking her to circle all the words that applied. One example from this paper is: "When feeling vulnerable (e.g., anxious, devalued, rejected, powerless, inadequate, unlovable), he tries to improve the situation, connects with me, shuts down emotionally, gets angry, deceives, abuses others, abuses me."
Most clients eventually learn the difference between an internal sense of authenticity (who they are at the deepest level) and the self-righteous satisfaction of feeling wronged by the disappointments and abuses they've endured. When they experience that tipping point, many are finally ready to do the hard, repetitious work of building new habits of emotional regulation and commit themselves to their deeper values. At that point, they can let go of their sense of victimhood and embrace the rewards—and risks—of living and loving fully as they move forward in their lives.
***
Steven Stosny, PhD, is the founder of CompassionPower. His books include Living & Loving after Betrayal, Love without Hurt, How to Improve Your Marriage without Talking about It (with Pat Love), and the upcoming Soar Above: How to Use the Most Profound Part of Your Brain under Any Kind of Stress.
This blog is excerpted from "Life After Betrayal" by Steven Stosny. The full version is available in the July/August 2013 issue, Searching for the Therapeutic "Aha": Brain Science and Clinical Breakthroughs. 
Illustration © iStock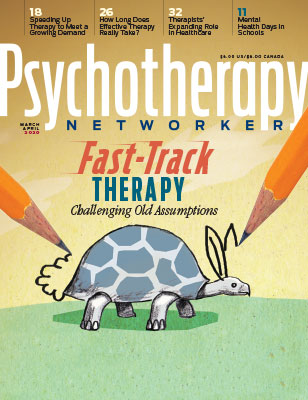 Get the latest issue of Psychotherapy Networker
Subscribe for a full year of clinical insight and creative inspiration from the field's innovators like Brené Brown, Bessel van der Kolk, Dan Siegel, Esther Perel, and many more. Plus, earn 2 CE hours every issue!