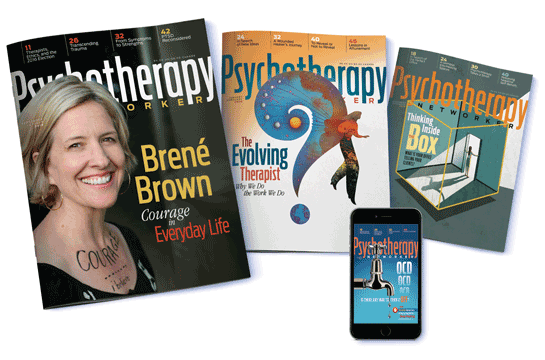 Transform Your Practice.
Subscribe Today and Save 50%!
Print + Digital + Archives
List price:
$36
$18 for a year (6 issues)
Your print subscription includes:

FREE digital & mobile editions
FREE access to the Networker Archives
CE credit just for reading! (Get your first 2-CE quiz FREE — a $25 value)
Discover Why the Field's Top Experts Love the Networker . . .

"Psychotherapy Networker offers a fabulous feast of cutting-edge science and practical clinical insights that deepen our ways of helping people thrive. It's an essential publication for therapists who want to stay well-informed and inspired!" – Daniel Siegel, New York Times bestselling author and executive director of the Mindsight Institute

"The Networker is the liveliest and best way for therapists to stay in touch with our rapidly mushrooming field. I wouldn't think of going without it." – John Gottman, award-winning researcher, author, and cofounder of the Gottman Institute

"I love the Networker. It combines real news about the field of psychotherapy, fascinating new ideas, and current controversies with down-to-earth articles that entertain, inform, and inspire. Such a gift for therapists!" – Susan Johnson, developer of Emotionally Focused Couples Therapy
Psychotherapy's Most Popular Magazine Gives You . . .
Creative tips for tackling the everyday challenges of your practice
In-depth coverage of the field's latest trends and debates
Compelling case studies that expand your clinical repertoire
Therapeutic advances from innovators like Brené Brown, Jon Kabat-Zinn, Bessel van der Kolk, Esther Perel, John & Julie Gottman, Daniel Siegel, Rick Hanson, Richard Schwartz, Janina Fisher, Susan Johnson, and many others
Continuing education at your own pace
Check out our latest issues here!
For more than 40 years, the award-winning Psychotherapy Networker magazine has been dedicated to helping you help your clients—and keeping you feeling creative and inspired. In every issue, you'll find engaging, thought-provoking articles and practical therapeutic strategies to expand and sharpen your clinical skills.
We gather together the world's leading experts to offer you the latest research, current debates, and indispensable guidance for your most challenging cases, keeping you on the cutting edge of psychotherapy.
Avoid information overload with a single publication that surveys all the latest practice trends, and even earn CE credit just for reading! Your first magazine CE is FREE (a $25 value)!
Risk-free Readership:
100% money-back guarantee. If you're ever dissatisfied with the Networker, simply cancel your order and we'll send you a refund for the remainder of your subscription.
For subscription questions, call 1-800-844-8260 or use our
Contact Form