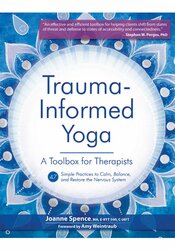 $29.99 USD
Now Available For Preorder
This item will ship after March 2, 2021, or when made available by the publisher.
Product Details
Format:

Book - Soft Cover

Length:

185 pages

Dimensions:

8.5 x 11

Author:

JOANNE SPENCE, MA, E-RYT 500, C-IAYT

Publisher:

PESI Publishing & Media

Copyright:

3/2/2021 - Available Now for Pre-Order

CE Available:

No, CE credit is not available

Product Code:

PUB086520

ISBN:

9781683733461
Author
JOANNE SPENCE, MA, E-RYT 500, C-IAYT
Joanne Spence, MA, E-RYT 500, C-IAYT, is a recovering social worker and certified yoga therapist. She is the founder and executive director of Yoga in Schools. Joanne trains and teaches all sorts of amazing people, both nationally and internationally, in yoga. She has taught yoga in prisons, hospitals, schools, churches, and sometimes on street corners. She specializes in working with adults and children who are experiencing chronic pain, trauma, depression, anxiety, ADHD, and insomnia.
Continuing Education Credits
CE Credit is not available for this product.
Reviews
In Trauma-Informed Yoga: A Toolbox for Therapists, Joanne Spence provides an accessible manual of practices that efficiently restore the nervous system's capacity to regulate mental and physical states. Successful treatment of trauma requires a personal resource to self-regulate one's physiological state and to be accessible to be co-regulated and to co-regulate others. This succinct volume provides an effective and efficient toolbox for therapists working with clients who have survived trauma. It provides detailed instructions for therapists on how to implement specific practices to help their clients regulate their physiological state and to effectively shift from states of threat and defense to states of accessibility and connectedness. The author's own words summarize the power of her contribution: "If trauma is about rupture, then yoga is about connection, integration, and unity." The book reinforces the view that yoga practices provide an important treatment modality for survivors of trauma by providing accessible tools that support well-being and human flourishing.
--- Stephen W. Porges, PhD, Distinguished University Scientist, Founding Director, Traumatic Stress Research Consortium, Kinsey Institute, Indiana University Bloomington, Professor of Psychiatry, University of North Carolina at Chapel Hill

Joanne Spence has written a magnificent book for mental health care providers, yoga students, and teachers, as well as certified yoga therapists. The book helps us learn how to provide excellent trauma-informed yoga to our clients. Spence offers one of the most clean and concise explanations of polyvagal theory as it applies to yoga and yoga therapy that I have seen in the field. The book finishes with many examples of simple, slow, mini-practices that can be done all day long to soothe and restore our nervous systems. It is clear that she has linked (or yoked) deeply with the topics of trauma, yoga, and what it means to be human. Spence is the author that all of us dream of becoming. She is completely absorbed with the mind of the reader as she writes, which turns out to be a very yogic way of writing. I will definitely use this book in my courses, as it takes difficult concepts and makes them easy to understand for yoga teachers, therapists, mental health care providers, and their clients.
--- Amy Wheeler, PhD, Professor of Kinesiology at California State University San Bernardino, Past president of the International Association of Yoga Therapists

A must-have for therapists seeking an embodied approach to healing, Trauma-Informed Yoga: A Toolbox for Therapists is a wonderfully practical book. Joanne Spence distills her decades of personal practice and yoga teaching experience into deeply informed, yet delightfully clear and accessible, yoga tools. A comprehensive guide, she offers 47 separate practices that you can use with your clients. In part 1, yoga is demystified as Joanne explains how yoga works with the nervous system to help your clients befriend and connect with their bodies to self-regulate. In part 2, she details calming, balancing, and energizing practices designed to prescriptively address your client's in-the-moment needs. Each practice comes with a script and very specific instructions that will empower you as a therapist. Trauma-Informed Yoga: A Toolbox for Therapists is an essential resource for therapists like me who know that true healing only happens with the body as an integral part of the process.
--- Catherine Cook-Cottone, PhD, RYT, Professor of Counseling, School and Educational Psychology at the State University of New York at Buffalo and author offour books on mindfulness and embodiment in mental health treatment

A wonderful, timely toolbox, full of straightforward and practical advice that helps us truly make yoga-based healing accessible to everyone.
--- Christopher Willard, PsyD, author of Growing Up Mindful, Harvard Medical School

As Stephen Porges, PhD, says, "We are a traumatized species, what does that give us?" Fortunately for us, Joanne Spence has done the work in the clinical world working with patients, veterans, prisoners, and school systems to forge tools that leap off the page of her new book and into the body of the reader. Every page left me feeling I was in a nurturing classroom, witnessing mastery as she wisely explored how clinicians can use trauma-informed yoga practices to sensitively build awareness among those struggling with known or unknown traumas. She brings a nobleness to the way she cares for you as the reader and trusts your stewardship of her decades of work.
--- Jill Miller, C-IAYT, author of The Roll Model: A Step-by-Step Guide to Erase Pain, Improve Mobility and Live Better in Your Body

Trauma-Informed Yoga: A Toolbox for Therapists brings out the vast potential of yoga in empowering people to heal themselves. Spence's selection of knowledge-based, skillfully selected yoga practices, as well as her sensitive attention to detail, make this book a must-read for all yoga therapists as they show their clients the path to well-being and wholeness.
--- Shirley Telles, MBBS, PhD, Director, Patanjali Research Foundation, Hardiwar, India, Head, Indian Council of Medical Research, Center for Advanced Research in Yoga & Neurophysiology

Joanne Spence's Trauma-Informed Yoga: A Toolbox for Therapists is a beautifully crafted guide for therapists curious about how to bring the healing benefits of yoga into their clinical work. Using personal stories and trauma-informed tools, she illustrates how to safely explore practices, in a slow and gentle way that is deeply respectful of the nervous system. With wisdom gained from her years of experience, Joanne Spence is a trusted guide through principles and practices that honor the needs of the nervous system and lead to embodied well-being.
--- Deb Dana, LCSW, author of The Polyvagal Theory in Therapy: Engaging the Rhythm of Regulation and Polyvagal Exercises for Safety and Connection: 50 Client-Centered Practices

Written with such honesty, love, and holding, the sheer reading of the book felt like a trauma-informed experience. Throughout the text, Spence perfectly captures the ethos of what trauma-informed means and how we as human beings can bring this approach into our entire life, not merely our work. Practical at its core and strongly fortified by science, this book offers a cornucopia of practices that therapists can easily integrate into their work with clients in all stages of their journey while accounting for their unique needs and preferences. Most importantly, she generously offers her own brilliant self-help handouts necessary for clients to cultivate body awareness. I cannot wait to share these with all my graduates and trainees. It was a joyful and vital read. I couldn't recommend it more!
--- Heather Mason, RYT-500, Yoga Therapists, MA, MSc, Founder, The Mindful Institute, UK

Joanne Spence has created a guide for integrating trauma-informed yoga into therapy that is equal parts science and heart. Her clear, easy-to-follow instructions make powerful practices seem simple. The warmth she brings to the work helps the reader remember the complex and beautiful humans for which it was created. In every section, Joanne offers inspiration, practical guidance, and reminders of our innate capacity for healing. Thank you, Joanne!
--- Jennifer Cohen Harper, MA, E-RYT, RCYT, author of Thank You Mind: Understanding My Big Feelings on Tricky Days

In her new book, Trauma-Informed Yoga: A Toolbox for Therapists Joanne Spence beautifully demonstrates her expertise and experience in counseling and yoga therapy, as well as her deep compassion for adults and youth suffering from trauma, depression, anxiety, and chronic pain. This indispensable guide includes an easy-to-understand translation of the science (finally!), followed by a treasure-trove of simple, accessible yoga-based strategies that are proven effective for supporting client therapy outcomes. Truly, it's a must-have resource for all therapists, and really anyone who seeks to better understand trauma and the mind-body strategies that can assist with healing.
--- Lisa Flynn, E-RYT 500, RCYT, founder of Yoga 4 Classrooms and author of Yoga for Children: 200+ Yoga Poses, Breathing Exercises and Meditations for Healthier, Happier, More Resilient Children; Yoga for Children-Yoga Cards; and the Yoga 4 Classrooms Activity Card Deck
Satisfaction Guarantee
Your satisfaction is our goal and our guarantee. Concerns should be addressed to Psychotherapy Networker, 5135 MacArthur Boulevard N.W., Washington, D.C. 20016 or call (888) 851-9498.

ADA Needs
We would be happy to accommodate your ADA needs; please call our Customer Service Department for more information at (888) 851-9498.