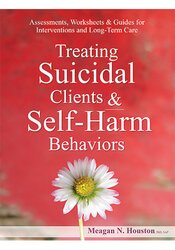 Product Details
Format:

Book - Soft Cover

Length:

217 pages

Author:

MEAGAN N HOUSTON, PH.D., SAP

Publisher:

PESI Publishing & Media

Copyright:

2017

CE Available:

No, CE credit is not available

Product Code:

PUB085170

ISBN:

9781683730842
Author
MEAGAN N HOUSTON, PH.D., SAP
Meagan N. Houston, PhD, SAP, has been helping to save lives for more than a decade with her work in private practice, federal prisons, skilled nursing facilities, college counseling centers and law enforcement. Dr. Houston is currently employed by the Houston Police Department Psychological Services Division, and maintains a private practice in Houston, Texas. She also provides consultation and training to various agencies across the country on suicidal behavior, suicide risk assessment, self-harm behaviors, social media and contagion.

Speaker Disclosures:

Financial: Meagan Houston is in private practice. She receives a speaking honorarium from PESI, Inc.

Non-financial: Meagan Houston has no relevant non-financial relationship to disclose.
Continuing Education Credits
CE Credit is not available for this product.
Reviews
"Finally! A hands-on resource which provides practical interventions for the assessment, intervention and management of suicidal and NSSI behavior. Dr. Houston's approach to suicide and NSSI prevention is timely, relevant and culturally sensitive. The level of detail and precision in which this delicate topic is discussed makes it clear why Dr. Houston is an authority on the topic of suicide and NSSI. This gem will benefit neophyte and seasoned clinicians alike!"

Jasmine Ross Burton, PhD
Licensed Psychologist
Essence Psychological Health Services


---

"Dr. Houston is a consummate professional and presenter, and her years of experience shine in this must-have resource. Working with personality disorders and challenging clients, and managing suicidal issues as well as non-suicidal self-injury on a routine basis, this book will quickly become an indispensable tool."

Daniel J. Fox, PhD
Licensed Psychologist
Award-winning author of Antisocial, Borderline, Narcissistic & Histrionic Workbook


---

"Dr. Houston has graciously and tirelessly given mental health professionals and their clients a priceless, clinical gift. Irrespective of your clientele, clinical setting or academic training, Treating Suicidal Clients & Self- Harm Behaviors answers questions, details treatment strategies and provides practical tools. Dr. Houston has thoroughly researched the challenges clinicians face with suicidal and self-harming clients, and provides a comprehensive, one-stop resource. Her book identifies and addresses the fears and inadequacies of clinicians, and empowers them to confidently and compassionately work with these challenging clients. The mental health community and the clients we serve will benefit from Dr. Houston's work for years to come."

Verdi R. Lethermon, PhD
Retired Director, HPD Psychological Services Division


---

"As a licensed psychologist with over 20 years of experience, I still become a bit nervous when dealing with a client who might be suicidal. Dr. Houston's book provides an excellent roadmap for conducting an in-depth assessment of a potentially suicidal client and then gives very practical information about how to intervene during this type of crisis. I work in a setting where we frequently have clients who express suicidal ideation and I supervise a number of students and interns each year. This book will surely become a favorite reference for my students, as it is clearly written, easy to understand, and has several sections that are directly related to the setting that I am in. It is also wonderful to have an up-to-date book that addresses the complications of suicide and modern technology, such as the impact of social media or working with clients through teletherapy. The checklists and worksheets are very useful and convey information in a way that is helpful for both the clinician and the client. This is the kind of book that I wish that I had available to me as a new clinician; however, I know that even seasoned clinicians can definitely benefit from this comprehensive work."

Nicole Dorsey, PhD
Licensed Psychologist
Training Director, Harris County Juvenile Probation Department, Texas


---

"Dr. Houston's book is impactful, powerful, and practical. It is easy to understand, with bullet points and clear explanations. She offers many resources and tools to use while working with suicidal and self-harming clients. A useful tool for therapists to use with parents of teenagers who engage in non-suicidal self-harming behaviors or contemplating suicide. Dr. Houston walks readers through assessing for suicide and the post suicidal interview with worksheets and step by step guides. This is a great and useful therapeutic tool."

Susan Beach Barris, PhD
Drug Abuse Program Coordinator


---

"This is a comprehensive and practical guide for clinicians of all experience levels. Dr. Houston reveals herself to be one of the foremost experts in the assessment and treatment of suicidal and self-harm behavior, both by providing the most up to date resources and tools, as well as offering specific examples of her clinical experience. What I find particularly helpful is the information on safety planning and special populations, the latter of which includes risk checklists for each group. Even more, what is likely the most unique aspect of this book is Dr. Houston's inclusion of technology factors and tools, which is what I am most looking forward to implementing into my own practice. These include mobile apps and web resources, as well as information on cyber-bullying and online communities promoting NSSI behavior. Finally, emphasis on clinician self-care is apparent throughout as necessary component to working with high-risk cases. Whether you are a graduate student, or a seasoned clinician, you will find this workbook a necessary addition to your library."

Scott M. Forbes, PhD
Licensed Psychologist,
Veterans Healthcare Administration


---

"Dr. Houston provides an excellent overview of assessment for suicidality from all angles. This book is an excellent teaching tool for new clinicians that provides a comprehensive overview of all factors to consider in conducting thorough and extensive evaluations for suicide risk. It also serves as an excellent resource and reference for experienced clinicians who want to make sure they are reviewing all relevant factors in their assessments, even reviewing specific factors related to a variety of special populations, to include LGBT, military vets, college students and more. Dr. Houston provides a comprehensive approach to treating suicidal clients, including ways of managing your own anxieties and concerns along the way!"

Kevin Correia, PhD
Clinical Psychologist


---

"This workbook takes a practical, well-informed, and nuanced approach to working with clients who engage in suicidal and self-harm behaviors. The worksheets and clinical examples make this a particularly useful guide for trainings. Of note are the several diversity variables and the Internet/social media, and how these may impact our clients' experiences and our treatment choices. Both novice and experienced clinicians will benefit from this resource!"

Cecilia Sun, PhD
University of Houston, Counseling and Psychological Services


---

"Dr. Houston has written a remarkable workbook for helping professionals of all skill levels. Houston's thoughtfulness regarding clinical responses will bridge traditional academic and experiential learning in a paramount manner, ultimately progressing the prognosis of our clients. This will be my training tool for novice and expert helping professionals alike. This is a significant guide for the helping field."

Charles Helm, PhD
Correctional Psychologist
Federal Bureau of Prisons


---

"It is with great pleasure and enthusiasm that I write this endorsement for Dr. Meagan Houston's workbook. Simply put, I found it very informative. She provided wonderful ideas that help professionals maintain their sanity when dealing with suicidal patients. It contains information that can really be useful and it is written in a dynamic, entertaining way. Her workbook highlights her skills and translates state-of-the-art research and knowledge into relevant, accessible, practical gems for the clinical as well as non-clinical. Dr. Houston is always knowledgeable, experienced, entertaining, and engaging and I highly recommend her workbook for trainings/conferences."

CDR Scarlet Lusk-Edwards, RHIA, MPH, PhD
United States Public Health Services, Federal Bureau of Prisons


---

"Every good clinician has or does experience some sense of uneasiness or anxiety when thinking about potentially suicidal clients or when dealing with suicidal clients or those who engage in self-injurious behavior. Experience, consultation, and great resources help allay those concerns. Dr. Houston's workbook is one of those references that every clinician should possess--from graduate student to veteran counselor. Dr. Houston has created a thorough, practical guide for professionals of all experience levels. Although assessing suicide risk is extremely unpredictable, use of this workbook can improve clinical judgment and confidence when managing these at-risk clients. From etiology to initial assessment, crisis intervention, and long-term treatment, this workbook includes critical data and useful worksheets to assist mental health professionals in one, comprehensive resource."

Edwina L. Martin, PhD
Licensed Clinical Psychologist


---

"As a clinician who has experience in the educational and private settings, addressing suicide, suicide prevention, and self-harm behaviors has become a rising hot topic. Within Dr. Houston's workbook she was able to capture the "who, what, when and how" when it comes to identifying and supporting these populations. Dr. Houston also presented the information in a format that is easily applicable, ready to use and able for clinicians to translate across service settings. "

Stephanie S. O'Neal, MA, LPC, LSSP
Licensed Specialist in School Psychology


---

"Treating Suicidal Clients & Self-Harm Behaviors" is what the field of mental health needs! Dr. Houston did an extraordinary job at tackling suicide topics from A to Z. Every clinician needs this workbook in their library as it gives great direction on how to handle specific clients."

Patrice Douglas, MFT
Clinical Therapist


---

"This workbook breaks down suicidality in a way that's easy to understand, along with various techniques that can be applied. I found the various checklists helpful as they broke down each population and specific warning signs in an easy to remember format. It not only explained what to do - but how to do it - with specific questions to ask a client to further and more effectively assess their risk, and the best interventions a therapist can provide for any given specific situation. This is a workbook that is practical for all levels of practitioners!"

Jessica Corey, LPC
Mental Health Clinician


---

"Dr. Houston's workbook is very beneficial to anyone working in the mental health field. In my role as a chief psychologist in a correctional environment, current and past suicidal behaviors are one of the major risk factors I assess. Dr. Houston's workbook is very concise in describing suicidal risk assessments and she does a great job differentiating between short-term and long-term treatment. She also gives a phenomenal explanation of Non-Suicidal Self-Injury (NSSI). Dr. Houston's workbook is a valuable resource for a novice or senior clinician."

David A. Freeman, PsyD
Clinical Psychologist


---

"Having been an independent practitioner for almost 25 years and in the field for considerably longer, I rarely find practice manuals interesting. However, Dr. Houston's approach allowed the reader to glean information at their own level of expertise and interest. Dr. Houston structured the material so that the reader is left feeling progressively more knowledgeable and at ease. Finally, structured evaluations that are valid and user friendly."

Vonceil C. Smith, PhD
Clinical Psychologist


---

"This is a must-have toolkit! The book is a nice mix of scientific literature, theory, and application. In addition to all the practical activities and worksheets, I also appreciate the attention to special populations when working with this important topic."

Summer Rose, PhD
Licensed Psychologist
Satisfaction Guarantee
Your satisfaction is our goal and our guarantee. Concerns should be addressed to Psychotherapy Networker, 5135 MacArthur Boulevard N.W., Washington, D.C. 20016 or call (888) 851-9498.

ADA Needs
We would be happy to accommodate your ADA needs; please call our Customer Service Department for more information at (888) 851-9498,