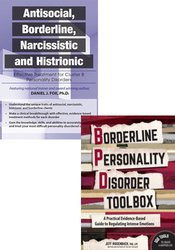 Product Details
Format:

Package - Video & Book Instructions

Authors:

DANIEL J. FOX, PH.D.
JEFF RIGGENBACH, PH.D.

Publisher:

PESI Publishing & Media

Copyright:

3/15/2019

CE Available:

Yes, See CE credit tab for complete continuing education details

Product Code:

RVKIT051545
Objectives
[+]
[-]
046835 - Antisocial, Borderline, Narcissistic and Histrionic: Effective Treatment for Cluster B Personality Disorders
Determine how the changes with the DSM-5® impacts diagnosis and treatment of the Cluster B Personality Disorders.
Identify and diagnose clients with antisocial, narcissistic, histrionic and borderline Personality Disorders to effectively inform your choice of treatment interventions.
Utilize case studies to differentiate symptom overlap, effective treatment and emotional management of each Cluster B Personality Disorders client type.
Manage the manipulative and potentially violent behaviors with your clients diagnosed with Antisocial Personality Disorder in session to make therapeutic progress.
Implement CBT techniques to clarify behaviors, values and goals with clients diagnosed with Narcissistic Personality Disorder.
Incorporate techniques to decrease explosive emotions, self-harm tendencies and cravings for chaos for clients diagnosed with Borderline Personality Disorder.
Utilize MI and DBT techniques with clients diagnosed with Histrionic Personality Disorder to help manage cognition and improve emotional regulation.
Outline
[+]
[-]
046835 - Antisocial, Borderline, Narcissistic and Histrionic: Effective Treatment for Cluster B Personality Disorders
The Personality Mystique
DSM-5® criteria
Treatment errors and misdiagnoses
Core and/or surface structure and the role of the clinical disorders
Differential diagnoses
Five central components to accurate diagnosis
Insulate your clients against risk factors
Antisocial Spectrum
Oppositional defiance to psychopath
Attachment
Manage and avoid in-session violence and threats
Secondary gains, suicide attempts and threats
Overcome blockades – manipulation, threats, power-struggles and more
Symptom presentation and risk analysis to self and other
Interpersonal theory techniques for compliance
Balance transference and countertransference
Lessen destructive behaviors
Cognitive-behavioral experiential techniques to lessen pathology
Psychotropic medications
Case studies and treatment exercises
Narcissistic Spectrum
Narcissistic presentation and the environmental context
Attachment and pathological narcissism
Tackle the veneer of perfectionism
Overcome blockades – power struggle, absent empathy, excessive criticism
The narcissistic/borderline client
Interpersonal strategies for empathy engagement
CBT techniques to clarify behaviors, values and goals
Tactics to avoid arguing
Motivational Interviewing to overcome resistance
Prevent sabotage
Build a sense of true self
Case studies and treatment exercises
Histrionic Spectrum
Moody to excited to histrionic: the erratic client
Attachment
Coquettish behavior, avoidance drama, inauthenticity
Dangers of the histrionic client
Link between emotions and behavior
Interpersonal strategies to encourage expression of true self
Enhance sense of self and lessen the "spotlight"
Motivational Interviewing techniques
DBT techniques
Interpersonal strategies to build positive relationships
Strengthen self-initiative and independent action
Psychotropic medications
Case studies and treatment exercises
Borderline Spectrum
Symptom presentation along the spectrum
Attachment
Feeling identification and behavioral control
Manage self-harm and suicidality
Rage-ful outbursts, self-mutilation, boundary violations
Create stability and build therapeutic collaboration
Develop true sense of self and lessen maladaptive need for attention
Facilitate pattern recognition
Lessen the impact of maladaptive patterns
Underlying wishes and fears
Build DBT core mindfulness skills
DBT techniques to dissolve the distraction and focus on the "genuine relationship"
Calm interpersonal upheavals with DBT
DBT emotion regulation skills
Psychopharmacology and applicability
Case studies and treatment exercises
Please Note: PESI is not affiliated or associated with Marsha M. Linehan, PhD, ABPP, or her organizations.
Author
DANIEL J. FOX, PH.D.
Daniel J. Fox, Ph.D., has been treating and specializing in the treatment and assessment of individuals with personality disorders for the last 14 years in the state and federal prison system, universities, and in private practice. He is a licensed psychologist in the state of Texas and has published several articles on personality, ethics, and neurofeedback. He is the author of The Clinician's Guide to Diagnosis and Treatment of Personality Disorders (PESI, 2013), Antisocial, Borderline, Narcissistic and Histrionic Workbook (PESI, 2015) and Narcissistic Personality Disorder Toolbox (PESI, 2018). His specialty areas include personality disorders, ethics, and emotional intelligence. Dr. Fox has been teaching and supervising students for the last 13 years at various universities across the country, some of which include West Virginia University, Texas A&M University, University of Houston, Sam Houston State University, and Florida State University. He is a staff psychologist at the Federal Detention Center in Houston, Texas, adjunct assistant professor at University of Houston, as well as maintaining a private practice that specializes in working with difficult clients. Dr. Fox has given numerous workshops and seminars on ethics and personality disorders, personality disorders and crime, emotional intelligence, managing mental health within the prison system, and others.

Speaker Disclosures:

Financial: Daniel Fox is in private practice. He receives royalties as an author for PESI Publishing & Media. Dr. Fox receives a speaking honorarium from PESI, Inc.

Non-financial: Daniel Fox has no relevant non-financial relationship to disclose.
JEFF RIGGENBACH, PH.D.
Jeff Riggenbach, Ph.D., is one of the most sought after educators in North America in the area of CBT and personality disorders. Over the past 15 years he has developed and overseen CBT based Mood Disorder, Anxiety Disorder, Borderline Personality Disorder treatment programs at two different psychiatric hospitals serving over 3,000 clients at multiple levels of care. Dr. Riggenbach trained at the Beck Institute of Cognitive Therapy and Research in Philadelphia, is a Diplomat of the Academy of Cognitive Therapy, and has presented in all 50 United States, Mexico, and Canada on topics related to CBT, DBT and Personality Dysfunction.

Dr. Riggenbach has authored two best-selling books, The Cognitive Behavior Therapy (CBT) Toolbox: A Workbook for Clients and Clinicians (PESI, 2012) and Borderline Personality Disorder Toolbox: A Practical Evidence-Based Guide to Regulating Intense Emotions (PESI, 2016), which was Amazon's #1 new release in its category. Jeff is known for bridging the gap between academia, research findings and day-to-day clinical practice, and his seminars on DBT, CBT, and Schema-Focused Cognitive Therapy receive the highest evaluations in terms of clinical utility as well as entertainment value.

Speaker Disclosures:

Financial: Jeff Riggenbach has an employment relationship with Brookhaven Psychiatric Hospital. He receives a speaking honorarium from PESI, Inc.

Nonfinancial: Jeff Riggenbach has no relevant nonfinancial relationship to disclose.
Continuing Education Credits Awarded for Completion of Entire Package
[+]
[-]
Combined Continuing Education Credit From All Components
Breakdown of Continuing Education Credits by Components
[+]
[-]
046835 - Antisocial, Borderline, Narcissistic and Histrionic: Effective Treatment for Cluster B Personality Disorders
[+]
[-]
084425 - Borderline Personality Disorder Toolbox
Audience
Counselors, Social Workers, Psychologists, Psychotherapists, Therapists, Addiction Counselors, Marriage and Family Therapists, Case Managers, Nurses, Other Mental Health Professionals
Reviews
[+]
[-]
084425 - Borderline Personality Disorder Toolbox
Many people who struggle to acknowledge the presence of BPD traits in their lives continue to suffer needlessly. In the Borderline Personality Disorder Toolbox, Dr. Jess Riggenbach explains this diagnosis clearly and offers a variety of skills from evidence-based approaches for treating it. This toolbox is a must-have for mental health professionals, people with BPD traits and their family members." --Randi Kreger, Author, Stop Walking on Eggshells and The Official Family Guide to Borderline Personality Disorder, Founder, BPDCentral.com

"Written in clear user-friendly language, and drawing on vast research literature, beautifully summarizes what is known about BPD and how it can be effectively treated. Comprehensive in approach, it is an excellent resource for patients, clinicians, and families." Joel Paris, MD Author, Treatment of Borderline Personality Disorder: A Guide to Evidence-Based Practice, Editor, Canadian Journal of Psychiatry

"Borderline Personality Disorder Toolbox is a must-have comprehensive guide to understanding and managing BPD. Dr. Riggenbach's step-by-step accessible strategies will help the reader obtain empirically valid powerful tools to cope with Borderline Personality. This uniquley helpful guide will be an essential resource for both clients and their clinicians alike."Leslie Sokol, PhD, Distinguished Founding Fellow, Academy of Cognitive Therapy, Fellow, ABCT, Co-author, The Think Confident, Be Confident Workbook for Teens

"Being asked to see a patient who has been diagnosed as having a Borderline Personality Disorder is enough to frighten even the most skilled and experienced clinician. Following Aaron T. Beck's notion of the "Continuity Continuum," Riggenbach describes and discusses the recommended treatments for various levels of Borderline, from mild to severe. This is a volume for every front-line therapist regardless of their professional discipline." Arthur Freeman, EdD, ScD, ABPP, Co-Author with Aaron Beck, Cognitive Therapy of Personality Disorders, Chair, Department of Behavioral Science, Touro College, NY

Dr. Riggenbach's toolbox incorporates much practical gear for dealing with the vulnerabilities of borderline personality. He incorporates elements of several therapeutic approaches to develop functional strategies for regulating these challenges. These tools help all those experiencing the demands of BPD to build and sustain more stable relationships.
Jerold Kreisman, MD, Author of I Hate You, Don't Leave Me: Understanding the Borderline Personality and Sometimes I Act Crazy: Living with Borderline Personality Disorder
Satisfaction Guarantee
Your satisfaction is our goal and our guarantee. Concerns should be addressed to Psychotherapy Networker, 5135 MacArthur Boulevard N.W., Washington, D.C. 20016 or call (888) 851-9498.

ADA Needs
We would be happy to accommodate your ADA needs; please call our Customer Service Department for more information at (888) 851-9498.