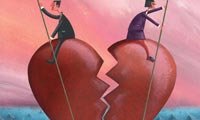 When is Enough Enough?
July/August 2015
We spend countless hours focused on how best to keep couples together, but rarely pay much attention to how to best help them split up. And we spend even less time examining how our own emotional reactions can influence their decision about whether to divorce.
Stop the Merry-Go-Round: Strategies for Angry Couples
November/December 2010
While partners caught in the anger merry-go-round invariably blame the other, both typically pass the anger back and forth like a shared virus.