In today's Information Age, therapy clients are more informed—and have greater expectations up front—when it comes to the look and feel of therapy. And many times, if they don't see concrete results or momentum in the first few therapy sessions, they'll bail.
According to Lynn Grodzki—clinician and business coach for therapists—practitioners can meet these challenges head-on by being more transparent about what therapy entails from the very first session.
Here, she describes what you can do to show clients that therapy has been worthwhile.



Lynn Grodzki is a psychotherapist, master certified coach, and author of Building Your Ideal Private Practice and Crisis-Proof Your Practice: How to Survive and Thrive in an Uncertain Economy.


As Lynn explains, many clients might walk away from sessions unsure of what they've accomplished. Outlining main points and takeaways at the close of sessions not only instills confidence, but can strengthen the therapeutic alliance and lead to more positive and powerful client transformations.
Today's private practice work poses many challenges you probably didn't learn about in graduate school. But that doesn't mean that meeting the modern demands of clients is beyond your reach.
***
Did you enjoy this video? Check out Lynn's tips on integrating coaching techniques into your work, as seen in her Networker article "The Coaching Edge," and her reflections on the new consumer mindset of today's therapy clients—and how to suit them—in "Shopping for Therapy."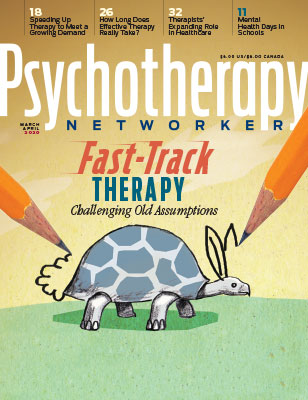 Get the latest issue of Psychotherapy Networker
Subscribe for a full year of clinical insight and creative inspiration from the field's innovators like Brené Brown, Bessel van der Kolk, Dan Siegel, Esther Perel, and many more. Plus, earn 2 CE hours every issue!
Topic: Business of Therapy
Tags: Business of Therapy | client referrals | Lynn Grodzki | marketing private practice | Alliances | client relationship | marketing | marketing psychotherapy | marketing therapy | rapport | therapeutic alliance | Therapist patient relationships