Our brain has hundreds of strategies for resisting emotional pain. But according to psychologist and renowned Buddhist Tara Brach, resisting pain only increases our suffering.

She advocates another solution: actually engaging what's emotionally painful. It's a process she calls cultivating deliberate practice. Here, she talks about the personal and professional benefits this practice yields.


Tara Brach, PhD, is a founder and senior teacher of the Insight Meditation Community of Washington DC. A clinical psychologist and Western teacher of Buddhism, she's also the author of Radical Acceptance: Embracing Your Life with the Heart of a Buddha and True Refuge: Three Gateways to a Fearless Heart.
"Our survival-oriented brain makes it hard for us to stay with the places that are difficult inside us," Tara writes in her Networker article. "We don't want to be with unpleasantness. We have all sorts of clever strategies to resist emotional pain. The practice of self-compassion means training ourselves to quiet our minds, stay with our experience, and remind ourselves to come into the body and heart."
***
Did you enjoy this video? You might also be interested Tara's video reflection on breaking free from "the cybertrance." Or, check out our magazine issue on mindfulness, Mindfulness Goes Viral: What Would Buddha Say?, with material from Jon Kabat-Zinn, Jack Kornfield, Ronald Siegel, and more!

***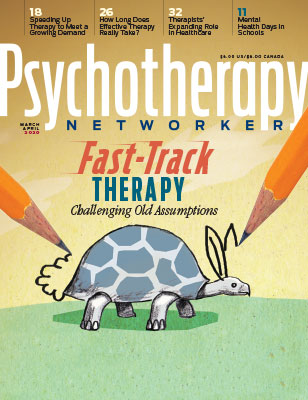 Get the latest issue of Psychotherapy Networker
Subscribe for a full year of clinical insight and creative inspiration from the field's innovators like Brené Brown, Bessel van der Kolk, Dan Siegel, Esther Perel, and many more. Plus, earn 2 CE hours every issue!
Topic: Mindfulness | Anxiety/Depression | Trauma
Tags: clinical psychologist | conversation | deliberate practice | emotion | emotional pain | learning | meditation | mindful | practices | psychologist | psychotherapy | therapeutic conversation | yoga | Psychotherapy Networker | networker | Tara Brach | Brach