Sex makes babies. So it is ironic that the child, the embodiment of the couple's love, so often threatens the very romance that brought that child into being. Sex, which set the entire enterprise in motion, is often abandoned once children enter the picture. Why does parenthood so often deliver such a fatal blow?
The transition from two to three is one of the most profound challenges a couple will ever face. It takes time—time measured in years, not weeks—to find our bearings in this brave new world. Having a baby is a psychological revolution that changes our relation to almost everything and everyone. Priorities shift, roles are redefined, and the balance between freedom and responsibility undergoes a massive overhaul.
Eventually, most of us come to recognize ourselves again within this new context of family. For some of us, this is when romance starts to work its way back into the fabric of our lives. We remember that sex is fun; it makes us feel good, and it makes us feel closer.
But while some couples gravitate toward each other again, others slowly wander off on a path of mutual estrangement. Reclaiming erotic intimacy is not always easy. The case is often made that American parents today, regardless of class, are overworked and overwhelmed. We constantly sort conflicting demands into their appropriate hierarchical slots: The Crucial, The Important, The Dreamt of, The Ought-to. Sex often remains firmly at the bottom of the "to do" list, never fully relinquishing its last-place status to other, more mundane tasks.
Why is it that our erotic connection with our partner winds up so demoted? Does it really matter if the dishes aren't done, or is there something more beneath our mysterious willingness to forego sex? Perhaps eroticism in the context of family is simply too difficult for anyone to embrace.
Parenthood, Inc.
Safety and stability take on a whole new meaning when children enter the picture. For children to feel confident enough to go out into the world and explore on their own, they need a secure base. Parenthood demands that we become steady, dependable, and responsible. We plant ourselves firmly on the ground so that our kids may learn to fly.
We do it for our kids, but we also do it for ourselves. Facing the great unknown of parenthood, we try to establish as much security as we can. We seek to contain the unpredictable by creating structure. In the process we cast aside what is frivolous, immature, irresponsible, reckless, for these clash with the task at hand: building family. "I got rid of my motorcycle when Jimmy was born. I'm not allowed to die in a bike crash anymore." "It was all spur-of-the-moment for us before the kids. I'd call Dawn at the office at 5:15 to tell her about a band that was playing at 9:00, and she'd always meet me there. Now we buy season tickets but wind up giving half of them away."
Family life flourishes in an atmosphere of comfort and consistency. Yet unpredictability, spontaneity, and risk are precisely where eroticism resides. Eros is a force that doesn't like to be constrained. When it settles into repetition, habit, or rules, it touches its death.
Many of us become so immersed in our role as parents we become unable to break free, even when we might. "I knew we were in trouble when I couldn't even think about having sex until all the toys were put away," my patient Stephanie reluctantly admits. "And then there are the dishes, the laundry, the bills, the dog. The list never ends. If someone were to ask me, What would you rather do, mop the kitchen floor or make love to your husband?' of course I would pick sex. But in real life? I push Warren away and grab that mop." It's easy to disparage the mop. Like a lot of mothers, Stephanie resents cleaning, even while she feels compelled to pursue the tidy household as an icon of successful motherhood. She finds herself irresistibly drawn to cleanliness, as if order on the outside can bring peace on the inside. And, to some extent, it does. These are activities with immediate and measurable results, far more manageable than the open-endedness and terrors of childrearing.
Children are a blessing, a delight, a wonder. They're also a minor cataclysm. These cherished intruders fill us with a profound sense of vulnerability and lack of control. We dread the thought of something terrible happening to them or worse yet, of losing them. They hold us hostage to constant anxiety. We love them so much, and want to protect them at all costs.
Before Jake was born, Stephanie worked as an office manager in an international shipping firm. She had always planned on returning to work after her maternity leave, but Jake's birth changed that. She couldn't bear the thought of leaving him and, after doing the math, realized that most of her paycheck would go to the babysitter anyway. Five years have passed and Sophia has come along. "With a five year old and a two year old, I'm on mother duty 24/7. If I have any time left, I just want it for myself. When Warren approaches me it feels like one more person wanting something from me. I know that's not his intention, but it's how I feel. I don't have anything left to give."
"When did sexual intimacy become his need only? Do you miss the connection, too?" I ask her.
She shrugs. "Not really. I keep thinking that it will come back, but I can't say I miss it."
While Stephanie's desire has remained stagnant, Warren's frustration has risen exponentially. "I've tried everything," he tells me. "She asks for help, I give her help. I do the dishes, I let her sleep late on the weekends, I take the kids out so she can have some time to herself. But, you know, I work, too. I'm meeting deadlines all day long. It's not like I'm having a picnic. She thinks all I want is to get laid, but that's not it. I want to come home and be with my wife sometimes. But all I get is a woman who's become all mother."
"Have you seen the movie Before Sunset?" I ask him. "At one point the main character, Jesse, says that he feels like he's running a daycare with someone he used to date."
"Exactly!" he snaps.
Eros Redirected
Stephanie bursts with creativity: art projects, nature walks, trips to museums and fire stations, puppet shows, cookie-cutting, cookie-baking, cookie-parties. If we think of eroticism not as sex per se, but as a vibrant, creative energy, it's easy to see that Stephanie's erotic pulse is alive and well. But it no longer revolves around her husband. Instead, it's been channeled to her children. Regular play-dates for Jake but only three dates a year for Stephanie and Warren: two birthdays, hers and his, and one anniversary.
Which brings me to another point. Stephanie gets tremendous physical pleasure from her children. Let me be perfectly clear here: she knows the difference between adult sexuality and the sensuousness of caring for small children. She, like most mothers, would never dream of seeking sexual gratification from her children. But, in a sense, a certain replacement has occurred. The sensuality that women experience with their children is, in some ways, much more in keeping with female sexuality in general. Female eroticism is diffuse, not localized in the genitals but distributed throughout the body, mind, and senses. It is tactile and auditory, linked to smell, skin, and contact; arousal is often more subjective than physical, and desire arises on a lattice of emotion.
In the physicality between mother and child lies a multitude of sensuous experiences. We caress their silky skin, we kiss, we cradle, we rock. We nibble their toes, they touch our faces, we lick their fingers, let them bite us when they're teething. This blissful fusion bears a striking resemblance to the physical connection between lovers. In fact, when Stephanie describes the early rapture of her relationship with Warren—lingering gazes, weekends in bed, baby talk, toe-nibbling—the echoes are unmistakable. When she says, "At the end of the day, I have nothing left to give," I believe her. But I also have come to believe that, at the end of the day, there may be nothing more she needs.
This is an excerpt. Click here to read the full version of this article...
***
Esther Perel, MA, LMFT, is the New York Times bestselling author of The State of Affairs and Mating in Captivity. Her TED talks have more than 21 million views. She hosts the Audible podcast Where Should We Begin? and leads the online clinical training platform Sessions with Esther Perel.
This blog is excerpted from "When Three Threatens Two," by Esther Perel, and excerpted from her book Mating in Captivity. Copyright © 2006 by Esther Perel. Reprinted by permission of HarperCollins Publishers.
The full version of this article is available in the September/October 2006 issue, Couples Adrift: What Science is Telling Us About Helping Troubled Relationships.

Photo © Goodluz/Dreamstime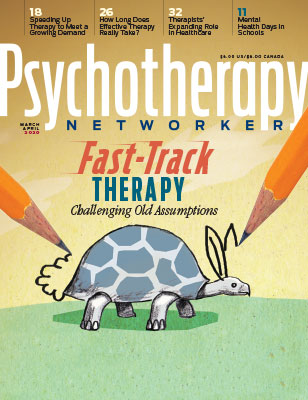 Get the latest issue of Psychotherapy Networker
Subscribe for a full year of clinical insight and creative inspiration from the field's innovators like Brené Brown, Bessel van der Kolk, Dan Siegel, Esther Perel, and many more. Plus, earn 2 CE hours every issue!