While EMDR is best known for the treatment of PTSD, it's evolved into a comprehensive, attachment-based approach that addresses a broad range of clinical conditions.
In the following interview, EMDR pioneer Deany Laliotis explains how EMDR works, who it works with, and how it's evolved over time.
Deany Laliotis, LICSW, is a trainer, clinical consultant, and practitioner of EMDR. She's the director of training for EMDR Institute, Inc., and is the codirector of EMDR of Greater Washington.
Not only does Deany say a therapist treating trauma must keep the client close and connected to help manage their symptoms, but they should invite them to reflect and grow. "Help them appreciate that perhaps what they learned to do growing up was avoid their 'inner life' because they didn't have the resources they needed. Our challenge is to help the client appreciate this, and validate them." Then, she says, "invite them to stretch, to be curious. To approach their inner life."
***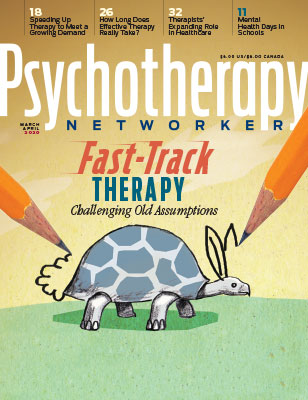 Get the latest issue of Psychotherapy Networker

Subscribe for a full year of clinical insight and creative inspiration from the field's innovators like Brené Brown, Bessel van der Kolk, Dan Siegel, Esther Perel, and many more. Plus, earn 2 CE hours every issue!
Topic: Anxiety/Depression | Trauma
Tags: Deany Laliotis | Depression & Grief | emdr | emdr therapy | post-traumatic stress disorder ptsd | PTSD | ptsd and depression | therapy for trauma | Trauma | trauma and recovery | trauma recovery | treating trauma