On a cool Santa Cruz evening four months ago, therapist Dick Schwartz found himself crouched on a yoga mat in a friend's living room, about to do something crazy. At least, that's what some of his more buttoned-up colleagues might've thought. He'd met Bob Grant at an Esalen workshop several years back, a rising star in the field of ketamine-assisted therapy. Almost four decades earlier, Schwartz had developed Internal Family Systems (IFS), a therapeutic approach that involves dialoguing with our inner psyches, and he believed that ketamine, a longtime dissociative anesthetic said to have a quick-acting antidepressant side effect, was the key to taking his personal IFS work to the next level.

As Grant lit a fistful of sage and invited various invisible spiritual guides to join them in the room, he reassured Schwartz that he'd be beside him the whole time. Was he afraid, Grant asked? Schwartz shook his head and took a deep breath. Then Grant stuck a ketamine-filled syringe into the meat of Schwartz's upper arm, and squeezed.

Within minutes, Schwartz became completely unaware of his surroundings. He entered another realm, he says, a blissful place, where his defenses crumbled and his heart opened up. The everyday problems we deal with, he suddenly realized, might seem all-encompassing, but they aren't everything. "As the Buddhists would say, I felt less attached," he explains. The hour-long experience seemed to end as soon as it began. Although he doesn't remember saying it, as his mind gradually returned to his friend's living room, he announced, almost mournfully, "This is amazing. I don't want to leave."

Schwartz was so enthralled with the experience that he decided to conduct a study with Grant and another Esalen colleague, Phil Wolfson, on the effects of ketamine in clients being treated with IFS for depression, which is currently in the planning stages. And he's not alone in his enthusiasm. The number of American clinics where ketamine can be administered has spiked in just a few years, from approximately 60 in 2015 to 160 today, according to the American Society of Ketamine Physicians.

Ketamine received FDA approval for use as an anesthetic in 1970 and saw action as a battlefield analgesic and emergency-room painkiller, treating everything from gunshot wounds to C-sections. But in 1999, the DEA declared ketamine a Schedule III controlled substance after it gained notoriety as a party drug, commonly known as Special K. In a press release last August, the American Psychiatric Association reiterated caution over ketamine's widespread use due to its "potential for tolerance, abuse, and dependence."

That hasn't stopped the number of ketamine clinics from growing, particularly after several recent National Institute of Mental Health clinical trials found that 70 to 80 percent of participants with treatment-resistant depression reported no longer experiencing symptoms after receiving a series of ketamine infusions. And they felt this relief usually within hours of the first dose, as opposed to the four to six weeks it can take for the effects of most SSRIs to kick in. Unlike SSRIs, which target the brain's serotonin and noradrenaline systems, ketamine targets the glutamate system, thought to restore neural connections that regulate mood and the ability to feel pleasure. For those who respond to ketamine, a typical treatment of six infusions can lead to a full recovery from depression symptoms for months at a time, according to a 2015 Lancet article.

So what does a clinical ketamine treatment look like? Patients can walk in, sometimes without a referral, do a short intake with the presiding medical professional, pay their fees, and schedule a handful of hour-long infusions several days apart. These infusions are given intravenously as patients sit in reclining chairs in private rooms. They'll often listen to music or dim the lights to relax. An attendant will check on them every so often to measure their vitals. Throughout the infusion, patients remain mostly lucid. They can expect to dissociate a bit, clinic directors say, but not hallucinate, often experiencing feelings of weightlessness or floating outside of their body. Finally, since the patient can expect some residual dizziness after treatment, they get a ride home. For the most part, patients and providers say, it's a painless and hassle-free experience.

While ketamine remains a legal but off-label antidepressant not approved by the FDA, esketamine, a variation of the ketamine molecule, was granted FDA approval for depression treatment in March, following years of legal wrangling. It's now being sold as a nasal spray under the brand name Spravato, produced by Johnson and Johnson. Unlike ketamine administered intravenously, esketamine is likelier to be covered by insurance, thanks to the FDA endorsement. Although it's less potent than pure ketamine, it still needs to be administered by a licensed doctor. And it will still carry a black box safety warning, the most serious warning issued by the FDA, reflecting its reported potential to impair thinking and judgment.

With ketamine poised to be the biggest psychopharmacological advancement since Prozac, and a more effective one at that, many feel the early hype is warranted.
But Frank Anderson, a Boston-based therapist who also practices psychiatry, is cautious. "Work still needs to be done," he says. Although he plans to get trained in ketamine-assisted psychotherapy, he says it's unclear exactly what optimal treatment will look like. Since people who take ketamine enter an altered state, he says it makes sense for him to videotape all sessions for liability purposes. Plus, there doesn't seem to be a consensus on what ketamine dosage is most therapeutic. Most clinics usually prescribe between half and one milligram per kilogram of body weight. For a 150-pound person, that's about 35 milligrams—a little lower than the 50 milligrams Schwartz says he received in just a few seconds. (An anesthetic dosage is around 200 milligrams.) There are also wide variations in how long and often treatments are conducted.

It's unclear what role psychotherapists will play as ketamine continues to gain traction. Most ketamine clinics are managed by physicians, anesthesiologists, and nurses—and their sterile, no-frills clinics look more like dentists' offices than places where you might expect deep psychological healing to occur. Although attending doctors usually require patients to fill out medical history forms and routinely assess their mood throughout treatment—and might consult with referring psychiatrists or give the patients' therapists a rundown after each treatment—the experience is mostly devoid of any extended processing typical of psychotherapy.

That's a problem, Anderson says. "Ketamine treatment isn't psychotherapy assisted yet. In good therapy, you're in a safe environment, and there are people supporting you." It makes a huge difference in outcomes, he explains. "But that's not the case at most IV clinics right now, where you get your ketamine and you leave. Instead of saying, 'Take this drug and it'll treat your depression,' we need to be saying, 'Take this drug, then let's get to work to address your issues.'"

Patrick Oliver, the medical director of the Mind Peace Clinic in Richmond, Virginia, says incorporating therapy into their protocol is something many ketamine clinics, including his, are working toward. "Ketamine clinics are exploding," he says, noting that he sees almost 50 patients a week, and the number is only growing. He's watched almost three-quarters of his patients experience a full recovery, thanks to ketamine. He says the drug is a "game-changer," but adds, "it's not a get-it-and-forget-it treatment, where we 'fix' people. Depression, anxiety, trauma—these are chronic conditions we're talking about. The long-term management of depression can't be understated. It's a crucial part of treatment."


This blog is an excerpt. To read the full version, click here.
***
Chris Lyford is the assistant editor at Psychotherapy Networker.
This blog is excerpted from "Ketamine: The Latest Wonder Drug?" by Chris Lyford. The full version is available in the May/June 2019 issue, Taking Wing: When Therapy Changes the Therapist.
PHOTO © ISTOCK/BENJAVISA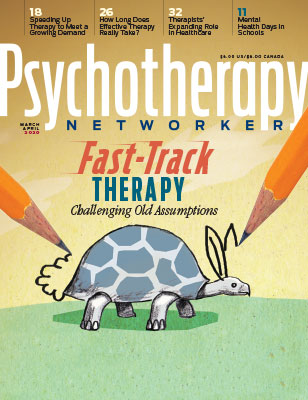 Get the latest issue of Psychotherapy Networker
Subscribe for a full year of clinical insight and creative inspiration from the field's innovators like Brené Brown, Bessel van der Kolk, Dan Siegel, Esther Perel, and many more. Plus, earn 2 CE hours every issue!