Are teen clients entitled to confidentiality? How should therapists discuss confidentiality with their teen clients? What's the therapist's role when a teen client tells them they're going to do something risky—say, sneak out of the house, use drugs or alcohol, or engage in unsafe sex?
Here, therapist Britt Rathbone, who's spent almost his entire career working with adolescents and teens, gives us the answers, and explains how therapists can teach these clients skills that improve judgment and self-control.
Britt Rathbone, LCSW-C, treats adolescents and trains service providers as director of Rathbone & Associates. He's the coauthor of Dialectical Behavior Therapy for At-Risk Adolescents, What Works with Teens, and Parenting a Teen Who Has Intense Emotions. 
"Indeed, teens are all too familiar with adults reacting emotionally and have a repertoire of well-rehearsed responses of their own to shut them out," Rathbone writes in his Networker article. "But a calm and curious response is often so unexpected that it quickly engages them in an open discussion."
***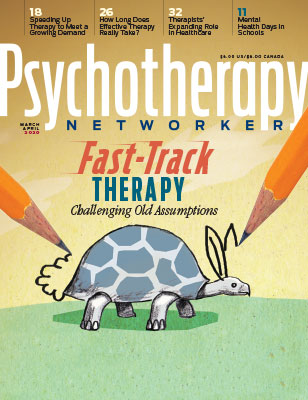 Get the latest issue of Psychotherapy Networker
Subscribe for a full year of clinical insight and creative inspiration from the field's innovators like Brené Brown, Bessel van der Kolk, Dan Siegel, Esther Perel, and many more. Plus, earn 2 CE hours every issue!
Topic: Children/Adolescents | Parenting
Tags: angry teenager | counseling teenagers | counseling teens | discipline | engaging teens in therapy | parent help | Parenting | parenting issues | parenting techniques | parents | Parents & parenting | teen therapy | teenage counseling | teenage therapy | teenagers | teens | therapy for teens | treatment for teens