Brain science research shows that activating positive emotional states is the fastest route to instilling hope, spurring motivation, and empowering our clients. But how do you help clients access resourceful states when they're feeling hopeless and helpless?
In the following video, trauma specialist and author Courtney Armstrong explains her approach.
Courtney Armstrong, LPC, trains professionals in creative therapy techniques and is the author of The Therapeutic "Aha!": 10 Strategies for Getting Your Clients Unstuck and Transforming Traumatic Grief.
In her Networker article, Armstrong says she treads carefully "before inviting the client to work together to transform a symptom, whose painfulness I always validate, into a quality that increases their sense of power, competence, and purpose... It may be hard for us to recognize that clients' symptoms can reveal the path to healing," she continues, "but if we look and listen carefully, we may find that it doesn't take a detective to uncover their greatest strengths. Often they're hiding in plain sight.
***
Want a fast, effective way to help traumatized clients heal from deep-rooted emotional wounds and overcome attachment issues, shame, and chronic pain? Here's a FREE video from renowned trauma expert Peter Levine's work with an actual client that can help you get started.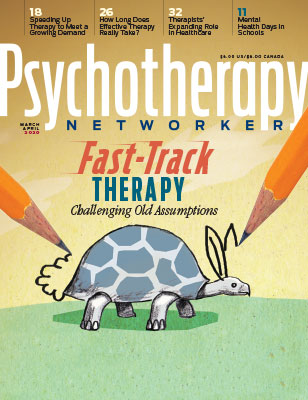 Get the latest issue of Psychotherapy Networker
Subscribe for a full year of clinical insight and creative inspiration from the field's innovators like Brené Brown, Bessel van der Kolk, Dan Siegel, Esther Perel, and many more. Plus, earn 2 CE hours every issue!
Topic: Anxiety/Depression | Trauma
Tags: brain science | brain science and psychology. | child trauma | clinical hypnosis | Courtney Armstrong | Courtney Armstrong LPC | emotional pain | hypnosis | mental trauma | Pain | painful experiences | positive psychology | positive thinking | post-traumatic stress disorder ptsd | PTSD | ptsd and depression | thinking positively | Trauma | trauma and recovery | trauma recovery | trauma therapist | trauma therapy | trauma treatment | Traumatic memory