When couples come to therapy with problems involving desire, arousal, and orgasm, therapists often fall into the trap of thinking of them as somehow broken and in need of fixing.
Here, sex therapist and author Suzanne Iasenza explains a different approach, a three-part therapeutic process that helps couples find alternatives to rigid scripts about what fulfilling sexuality is supposed to be like.
Suzanne Iasenza, PhD, teaches at the Institute for Contemporary Psychotherapy and Psychoanalysis, the postgraduate program in couples and family therapy at Adelphi University's Derner Institute, and at the Ackerman Institute for the Family. She's coeditor of Lesbians and Psychoanalysis and Lesbians, Feminism, and Psychoanalysis: The Second Wave.
As Iazensa explains, there's a clear-cut way to help couples become a sexual-discovery team, exploring their own idiosyncratic pathway to pleasure.
"If you want to rekindle your sex life," Iasenza writes in her article, "Transforming Sexual Narratives," you need to "put desire aside—at least for the moment. Instead, start by telling each other intimate stories."

***
Are you treating partners who've lost the romantic spark? This FREE CE seminar with EFT pioneer Sue Johnson explains how to harness the power of emotion in couples therapy.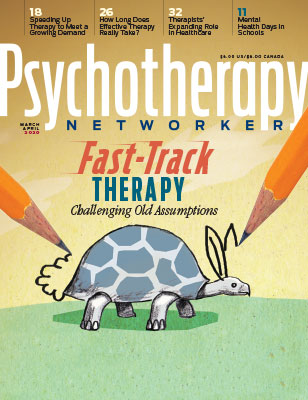 Get the latest issue of Psychotherapy Networker
Subscribe for a full year of clinical insight and creative inspiration from the field's innovators like Brené Brown, Bessel van der Kolk, Dan Siegel, Esther Perel, and many more. Plus, earn 2 CE hours every issue!
Topic: Couples | Sex & Sexuality
Tags: Anxiety | couples | Couples & Family | couples choreography | couples conflict | couples counseling | couples research | couples therapists | Couples Therapy | love | love and relationships | Narratives | personal stories | sex | Sex & Sexuality | sex life | sex therapist | sex therapy | Sexual behavior | sexual therapy | sexuality