In the mid-1400s, an Italian Catholic monk wrote a self-help book called Ars Moriendi, or The Art of Dying. Illustrated with woodcuts for the illiterate, it taught laypeople how to navigate the physical and spiritual trials of the deathbed. A bestseller, it was translated into most major languages of Europe and went through 65 editions before 1500.

In its woodcuts, a gravely ill man or woman lies in bed, attended by friends, spouses, angels, and sometimes a favorite hound. Beneath the bed are demons, urging the dying person to give in to one of five "temptations to sin" that block the way to dying in peace: lack of faith, despair, impatience, spiritual pride, and what the monk called avarice—or not wanting to say goodbye to the cherished things and people of the world. Such emotions—fear of the afterlife, remorse, wanting to die quickly, and not wanting to die at all—are familiar to most who have sat at a deathbed.

The antidote, counseled the Ars Moriendi, was not to fight bodily death by medical means, but to care for the soul. The dying were to "commend their souls" into the hands of God and, ideally, relax into a state of grace. The soul, pictured as a tiny human being, would leave the body and fly to heaven in the company of angels.

To the medieval mind, the dying were not passive patients, but the lead actors in their lives' final drama. Even on the deathbed, people had choices and moral agency. For the next several centuries, dying would be viewed as a spiritual ordeal and a domestic ritual, as significant and as ordinary as a baptism or a wedding.

Children, dogs, and even neighbors would gather at the bedside. Prayers would be spoken. A priest or rabbi might visit. Candles would be lit. After the final breath, relatives or religious volunteers would wash and dress the body—a practice echoed for millennia in every major world religion.

In America today, church bells no longer toll when someone dies. In hospitals and nursing homes, the dead are zipped into body bags and gurneyed out back elevators, as if death itself was a shameful and frightening failure.

There's a gap nowadays between how we hope to die, and how we really do. More than three-quarters of Americans hope to die at home like their ancestors, but more than two-thirds die in hospitals, nursing homes, and other institutions. Nobody I know wants to die "plugged into machines," but nearly a third of Americans stay in an intensive care unit (ICU) in their final month; 17 percent die there.

In antiseptic rooms where pets, flowers, candles, children, and unmarried partners are frequently forbidden, hospital protocols replace ancient rites. The dying often can't say their last words, because they're sunk in chemical twilights, or have tubes in their throats. Relatives pace the halls, drinking bad coffee from vending machines, shocked to hear—often in a drab conference room—that someone they love is about to die. ICU nurses and doctors sometimes use the word torture to describe what happens when a doctor, or a family member, refuses to accept the inevitable. Treatment often doesn't stop until someone gathers the courage to say no.

It doesn't have to be this way. There's a pathway to a peaceful, empowered death, even in an era of high-technology medicine. It begins long before the final panicked trip to the emergency room. It usually requires not a single dramatic letting go, but many microdecisions, made along a series of forking paths. It requires navigating a medical system poorly structured to meet the needs of anyone facing an incurable illness.
**********************************************************************************
When we understand how our culture shapes our identity, we can begin to help our clients learn to do the same. Here's a FREE printable worksheet to help you get started.
**********************************************************************************

Our current system pours its money, energy, and time into saving lives, curing the curable and fixing the fixable. In its division of labor, it looks like an assembly line. Each specialist works on a single organ and puts the body back on the conveyor belt. Every year, this "fast medicine" track saves countless victims of violence, car accidents, and heart attacks. In a crisis, it works very well.

But when people confront multiple health conditions that can be managed but not fixed, the conveyor belt poses great risks. In time, every body becomes globally fragile. Now, fixing things organ-by-organ, and assuming that living as long as possible is every person's paramount goal, can create obstacles to living well and dying in peace. Elderly people and the terminally ill find themselves shuttled from specialist to specialist, from test to test. Nobody speaks about where things are heading. And so people often ride the conveyor belt to its ultimate destination, a high-tech hospital room. And there, in a place where success is defined as not dying, they die.

In the years I've spent listening to people's stories of good and difficult deaths, I've learned one thing—people who are willing to explore the sometimes painful terrain of their own aging, vulnerability, and mortality often live better lives, and experience better deaths, than those who don't.

They keep shaping lives of comfort, joy, and meaning, even as their bodies decline. They articulate what makes their lives worth living and stop chasing cures when those conditions can't be met. They get clear-eyed about the future, so they can plan. They regard doctors as consultants, not bosses. They find medical allies to help them live as well as possible for as long as possible, and to support them in good deaths. They enroll in hospice earlier, and often feel and function better—and sometimes even live longer—than those who pursue maximum treatment. They make peace with the coming of death and seize the time to forgive, to apologize, and to thank those they love. And they often die with less physical suffering, and just as much attention to the sacred, as our ancestors did.
***
This blog is excerpted from the March/April issue's "Dying Well," which is from the book The Art of Dying Well: A Practical Guide to a Good End of Life by Katy Butler. Copyright © 2019 by Katherine Anne Butler. Reprinted by permission of Scribner, an Imprint of Simon & Schuster, Inc. To read the full version of "Dying Well," click here.

Katy Butler, former features editor for the Networker, is the author of Knocking on Heaven's Door, a New York Times Notable Book and bestseller, and The Art of Dying Well. Her work has been published in The New Yorker, The New York Times Magazine, Space, and several "Best of" anthologies.
ILLUSTRATION © GARY WATERS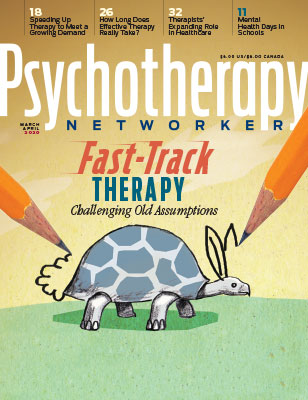 Get the latest issue of Psychotherapy Networker
Subscribe for a full year of clinical insight and creative inspiration from the field's innovators like Brené Brown, Bessel van der Kolk, Dan Siegel, Esther Perel, and many more. Plus, earn 2 CE hours every issue!