It's important to honor all of your client's inner parts in therapy. But accessing them to fully engage in healing work isn't always easy, especially when they've been through unimaginable trauma and feel lingering shame, as is especially common with trauma survivors.
As therapist Lisa Ferentz explains in the short video below, since trauma is stored in the visual parts of the brain, and the body, the therapist's best bet is to use creative, body-oriented strategies that counteract this shame. Here's what this looks like in practice:
Lisa Ferentz, LCSW-C, DAPA, is founder of The Ferentz Institute. Her books include Treating Self-Destructive Behaviors in Trauma Survivors: A Clinician's Guide, Letting Go of Self-Destructive Behaviors, and Finding Your Ruby Slippers: Transformative Life Lessons from the Therapist's Couch.
As Lisa mentions in her Networker article, working creatively energizes many of her traumatized clients, "in part because they were already creative, having invented all kinds of strategies for safety and survival." Working with a sexual assault survivor, Melissa, she explains how she used journaling to help her move beyond her pain and even find ways to make meaning from the horror she experienced.
***
Want to see more from Lisa, and dozens of other leaders in the field? Don't miss her workshop, "Guilt, Shame, and the Traumatized Client," at the upcoming Networker Symposium in March! Register now to lock in the best price and save before registration prices go up!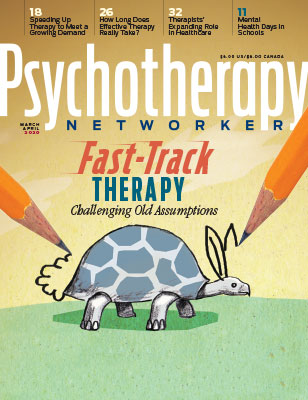 Get the latest issue of Psychotherapy Networker
Subscribe for a full year of clinical insight and creative inspiration from the field's innovators like Brené Brown, Bessel van der Kolk, Dan Siegel, Esther Perel, and many more. Plus, earn 2 CE hours every issue!