Today, as a psychotherapist, I approach my work much as I did in my former vocation as an actor: with the faith that my instrument—my body, my self—can serve as an emotional tuning fork to locate the inner lives of each and every client, regardless of our exterior differences. And I try to use it to inspire my clients to maximize their own experiences of self. As it turns out, the rehearsal process for a play can resemble long-term psychotherapy: we often begin with expectations of where we're headed and wind up somewhere unforeseen—transformed yet completely ourselves at the same time.

When I tell people that I use my acting training and experience more than any other resource as a therapist, they often take me to mean either that I'm "fake" with my clients, or that I deploy literal dramatic exercises in session. I'm not (or at least I try not to be) fake with my clients, and I rarely, if ever, use theatrical interventions in session, unless I believe they might be useful for a specific client in a specific moment. However, when I simply think about my clients the way actors think about their characters and scene partners, I enhance my capacity to dive into the deep end of their stories, beyond the words they speak—their "scripts"—even when I do nothing more than listen to them compassionately.

I may not end up doing anything radically different in session from what any other clinician might do instinctively. But by thinking of myself as a performing artist, as opposed to just a clinician, I find creative ways to join my clients in their emotional subjectivity, relate to them like a character who can help them grow, and allow myself to expand personally in the process. And yet, as any practitioner knows, this is not always easy. It certainly wasn't with my client Hal.

Hal burst into my office each week like he was in a race against time; he wanted answers, and he wanted them fast. A straight, white, corporate millennial, he was used to instant gratification, and he expected no less from his therapy. He emphasized that he already understood himself "extremely well," and that all he needed from me were "professional tips" to reduce stress in his highly successful life.

I was flattered; I'd been cast in the role of commercial guru, the kind who might dominate the American market with bestselling, confidence-inspiring catchphrases. Except I felt too slow, discursive, and insecure to play this part for Hal: more the man behind the curtain than the great and powerful Wizard of Oz. Each week, I expected him to look at me incredulously and see that my training and degrees were all a sham. I anticipated the day he'd tear back the curtain and expose me as the talentless hack I felt myself to be in his presence.

On the plus side, Hal showed up for our weekly "rehearsals" consistently. But each scene between us had a palpable yet indiscernible tension. First, he'd summarize his week, speedily and with the energetic poise of a cocky movie star—shoulders back, chest protruding forward, eyes sparkly with intense self-assurance. Then he'd present a dilemma—"I need to make more time for relaxation and balance," for example. At this point, he'd look to me as if to indicate it was my turn to perform, and to prove I was a worthy scene partner.
**********************************************************************************
Want a fun, fast therapeutic warm-up exercise to quickly build trust with tough-to-reach clients? Here's a FREE downloadable worksheet to help you get started.
**********************************************************************************

I'd then try to seize the spotlight, so to speak, masking my self-conscious insecurity with a commanding delivery of a line like, "I recommend yoga, three times a week. Put it in your calendar." I was desperately trying to personify the omnipotent coach I imagined he wanted me to be. And though my "acting choice" arguably answered Hal by his own method, it felt as though I was trying way too hard to impress him.

Eventually, I'd look back on these moments and realize how all of these unnerving sensations could help tune me in to Hal's complex internal world. But in the meantime, I felt blocked, like a superficial actor who failed to connect with his character on a deep personal level.

All the Characters Within

Over time, it became abundantly clear that Hal couldn't be bothered with my attempted interventions. He'd wince disapprovingly at my suggestions and say things like, "Yoga never works for me. I just end up obsessing about the more productive things I could be doing instead of contorting myself on a mat." At the end of our sessions, he'd stride out of my office with a proud posture, leaving me behind to reel in a slouch of inadequacy. I couldn't seem to reach him, no matter how hard I tried. I felt like the FBI agent Tom Hanks played in the movie Catch Me If You Can, endlessly chasing Leonardo DiCaprio's slick and wily character, a master of escape.

This frustrating dynamic manifested in a number of ways between us, including our weekly schedule. Hal would frequently ask to alter our meeting times due to his ever-changing obligations, and I'd accommodate him more than I wanted. I did this because I was afraid to disappoint him. Not only did I sense he'd fire me if I didn't manage to keep up with his demands, but more significantly, I had an inexplicable sense of dread that he'd erase me from his mind entirely if I let him down. Unwittingly, I was tuning in to Hal's inner life. I could feel his deep ambivalence about trusting and depending on people vibrating within my own body. And as it turned out, my fears were not unfounded.

One day, after two years of working together, Hal raised the emotional stakes of our scene work. I was running behind (by about a minute), between notes and phone calls, and he had no intention of waiting; it was his time, and he'd enter my office if he wanted to. I was completely shaken off-center as he blasted through my door. Within the flicker of a second, my face flushed with a combination of shock and shame, but also disapproval and a smidge of anger.
Read the full version of this article here...

***

Mark O'Connell, LCSW-R, MFA, is a psychotherapist and professional actor in New York City. He's the author of the new book The Performing Art of Therapy: Acting Insights and Techniques for Clinicians, and writes for Psychology Today and The Huffington Post as well as clinical journals.

This blog is excerpted from "Character Work," by Mark O'Connell. The full version is available in the March/April 2019 issue, The Missing Piece: Embracing a More Embodied Psychotherapy.

ILLUSTRATION © VANCE VASU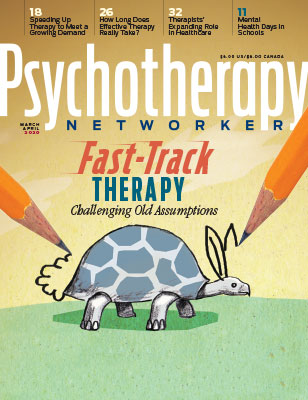 Get the latest issue of Psychotherapy Networker
Subscribe for a full year of clinical insight and creative inspiration from the field's innovators like Brené Brown, Bessel van der Kolk, Dan Siegel, Esther Perel, and many more. Plus, earn 2 CE hours every issue!