Six years ago, I received an email from a Chinese woman named Hongyan Li. "I enjoyed your book on Kids'Skills," she wrote. "Parents and teachers here are in desperate need of better tools than corporal punishment, which is legal and commonly used with children. Can we meet next time I'm in Finland?"

She'd worked as a telecommunications engineer for many years in Finland, where I live. When she returned to China in 2008, she decided to change career tracks and trained as a coach. This training, which gave her some psychology building blocks, combined with her exposure to the Finnish education system, had made her painfully aware of the problems with Chinese education: the severe competition, anxious parents, overstressed children, outdated teaching models, and use of scolding and even public humiliation as methods of discipline. She felt she needed to do something about it.

I've since collaborated with her to teach Chinese teachers and parents Kids'Skills, a solution-focused and child-friendly approach to helping children overcome emotional and behavioral problems. Now, I visit China twice a year, and we have local trainers in most of China's provinces. Hundreds of people are helping children and families use this solutions-focused approach. Liu Haiying, a freelance counselor from the city of Hangzhou, is one of them. This is her story of how she applied it in her work.

– B.F.

Liu Haiying's Story

Schools in my city are required by the local government to offer counseling to students, but in reality such services are either nonexistent or of low quality. Even the concept of counseling remains a foggy idea to most people. The common practice is more or less like a moral education given by specially trained teachers.

Before I participated in a Kids'Skills training course, my work mainly entailed giving parents and teachers lectures about positive discipline, an Adlerian approach I learned many years ago. Now, I show them how to convert a child's problem into a useful skill, and then help the child learn that skill in collaboration with family, friends, and teachers.

The idea of engaging a larger social network to help children overcome their problems fits Chinese culture, which has always valued interdependence, collaboration, and collective responsibility. Still, I wanted to put this method to a test, so I asked my son if we could try using it together when I returned from the workshop.

My son had a habit of dragging his feet in the morning. As a result, we never succeeded in getting to school on time. His dawdling and slowness was a problem, and I'd tried everything to change it—nagging him, opening the curtains to let the light in, putting on his favorite music, promising him rewards—all to no avail.

"There's one skill that I think you'd benefit from learning today," I told him. He looked at me curiously. "It's the skill of being quicker in the morning." To my surprise, the idea of learning a skill seemed to appeal to him. We went through the rest of the Kids'Skills steps, and it worked! The next morning, he was at school 10 minutes early—and the change has lasted.

I was so impressed that I went on to try this approach at one of the schools where I worked. Sure enough, the success stories spread, leading to requests from other schools, including the one where I met Weiwei.

The Case of Weiwei

Weiwei was a seven-year old boy who'd recently moved to a new school from a neighboring district. He'd been having difficulty getting along with his classmates because of anger issues and his tendency to get into fights. The situation was so dire that other parents were already pressuring the principal to expel him from school.

I started by meeting with Weiwei's mother, who gave me some background information. Weiwei had been close to his father, whom she'd divorced when Weiwei was three. A few years later, his father had passed away, which is when Weiwei's behavioral problems had started. Although she'd tried many things to help him, including taking him to Singapore at one point to see a child therapist, nothing had worked.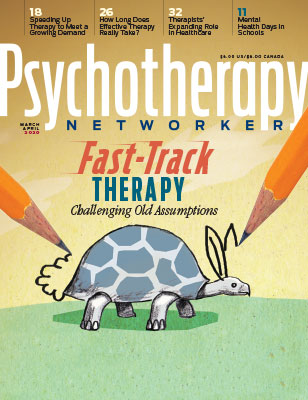 Get the latest issue of Psychotherapy Networker
Subscribe for a full year of clinical insight and creative inspiration from the field's innovators like Brené Brown, Bessel van der Kolk, Dan Siegel, Esther Perel, and many more. Plus, earn 2 CE hours every issue!

I listened as she spoke about Weiwei's problems, but rather than focusing on them, I moved quickly to talking about solutions. When I told her about how well Kids'Skills had worked with my son, she was more than happy to try it with Weiwei.

The next day, I met with Weiwei, his mother, and the teacher who'd referred him to me. I started the session by asking the mother and teacher to say some good things about Weiwei to ensure that he was at ease and the atmosphere felt optimistic and collaborative.

"Weiwei takes care of me, and he's very sweet," the mother began. "When I'm tired after work, he sometimes massages my shoulders and helps Grandmother wash dishes."

"How about you?" I asked his teacher. "What good things can you say about Weiwei?"

"Weiwei likes to help me when I need to tidy up the classroom and sometimes volunteers to help his classmates with homework," she said.

Beginning the session this way generated a positive and caring mood that was conducive to a constructive and collaborative way of approaching whatever problems or difficulties needed to be discussed.

Choosing and Naming a Skill

Now it was time to turn the wheel a bit. "I understand you've recently had some trouble in class," I said to Weiwei. "I'm sure both Mother and Teacher want you to be happy at school. Would you be willing to learn some skills that could help you overcome your difficulties?"

Weiwei nodded. So I showed him a deck of 24 cards that I'd received at the Kids'Skills workshop, each one depicting a social skill that children with behavioral or emotional problems often lack. "Take a look at these cards," I said. "Could you pick some skills from this deck that you think would be good for you to learn?"

I spread the cards on the table for him, and after some time he selected six: resolve a conflict, calm myself down when I get angry, respond humorously to rude remarks, have the courage to speak in front of the class, wait patiently for my turn, and praise others.

"That's a good selection of skills. Well done, Weiwei," I said. "I can tell that you really want to improve. Now, I want you to decide which of these skills you want to try first." There are many ways of helping children identify a skill to learn. The method I used here, letting the child select some skills with the help of the cards, saves time and ensures that the child is in the driver's seat.

Weiwei carefully looked at the cards he'd selected. "I want to start with this one," he said, pointing at the one that read "calm myself down when I get angry."

"Can you tell me why you chose that skill?" I asked him.

"So I can stop getting into fights with my classmates," Weiwei said.

"And if you don't get into fights with your classmates, how will that be good for you?" I continued.

"I will have more friends," he replied quietly.
***
Ben Furman, MD, is a Finnish psychiatrist, psychotherapist, and one of the developers of the Kids'Skills method.
Liu Haiying, originally trained as a political and ideological educator, worked as a teacher in various schools. She's now a certified Kids'Skills coach and offers freelance counseling services.

This blog is excerpted from "WeiWei and the Spider." The full version is available in the January/February 2019 issue, Can't See the Forest? Maybe It's Time to Get Out of the Office.

Illustration © Sally Wern Comport