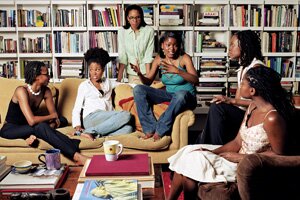 Deran Young knows it's not easy being first. It's not easy being the first person in your family to graduate from college. Or the first in your family to own a home. It's especially difficult being the first in your family to climb out of crushing poverty in 1970s Wichita Falls, Texas, where it was an unspoken rule for most black families like hers to keep your head down.

In the projects, your problems were your own, Young remembers, even if it meant walking yourself to preschool because your mother couldn't stand up after an especially intense night of smoking crack cocaine. But with many neighbors in the same boat, your problems were, in a way, everyone else's, too. And as long as there was food on the table and a roof over your head, could you really complain? At age 5, on mornings when Young made a wrong turn and got lost on her way to kindergarten, she'd repeat the same mantra in her head: just keep going. Someday, you'll figure it out.

These days, Young is helping others find their firsts, too. Two years ago, she founded Black Therapists Rock, an online community of black therapists that currently has more than 22,000 members. Mostly using Facebook, the organization functions primarily to help clinicians reach places where talk of therapy is virtually nonexistent—places like Young's hometown. But the group serves another important purpose: it's a resource for therapists to network, get advice about challenging cases, find referrals, and meet potential mentors, especially if they're struggling to land their first real clinical job or pass a licensure exam.

To be sure, numerous professional organizations offer networking opportunities for black therapists, the most prominent of which are the Association of Black Psychologists (ABPSI) and the National Association of Black Social Workers (NABSW), both formed during the height of the civil rights movement, and each with tens of thousands of members. But while these organizations serve a valuable purpose, Young says, they're professional organizations first and foremost, lacking a needed human element or a real spirit of community. And while each organization offers an annual conference, it's tough to keep a sense of collegiality and mission alive once the music dies and everyone returns to the professional isolation of their practice back home.

This is where Black Therapists Rock is shaking things up, using a variety of online tools like instant messaging, blogs, live videos, and Facebook groups so members who live near one another can find ways to meet in person. For her part, Young makes a regular habit of communicating through Facebook videos with the community she's created, sharing her own story—including recent struggles like her divorce, single parenting, and relationship issues—and encouraging others to do the same.

If Black Therapists Rock's success can be attributed to anything, it's that therapists are hungry for community. And no wonder. It's no mystery that in the field of mental health care, work schedules are often erratic, the work itself emotionally demanding, and most therapists feel cut off from colleagues. According to the APA, up to 60 percent of mental health practitioners regularly experience signs of burnout.

Numerous statistics point to a steady uptick in social isolation and loneliness, and its negative impacts on our physical and emotional health are well-documented. According to a 2017 Harvard Business Review piece written by former US Surgeon General Vivek Murthy, the last 50 years have seen the rates of loneliness double, regardless of geographic location, gender, race, or ethnicity. A March 2018 study published by Cigna, a health service company, found that two in five Americans feel that their relationships aren't meaningful, and suffer from feelings of isolation. Are therapists—ostensibly, purveyors of self-care—really any better off?

Out of the Frying Pan

While some therapist populations are more vulnerable than others, many clinicians have come up with their own creative strategies to counter personal and professional isolation. Recently graduated students new to the demands of practice feel especially disoriented, says Sarah Epstein, who graduated from Jefferson State University in May and began working at the Council for Relationships in Philadelphia soon afterward. "In school, we all went through the same process of learning," Epstein says of her small cohort. "But in regular practice, the work can get pretty lonely."

She says the clinic where she works is constantly bustling, with anywhere between 5 and 10 therapists running up and down the halls at any given moment, but they're often short on free time, pulled between sessions with clients and handling the business side of practice. "Finding camaraderie," she says, "has been slower than expected."
**********************************************************************************
Looking for your own professional community? The upcoming Networker Symposium features 150+ practice-changing workshops and keynotes, fun group activities, and more!
**********************************************************************************

Initially, Epstein tried to coordinate meet-ups with former classmates who lived nearby, but conflicting schedules got in the way. Instead, she turned to online communities to find support—specifically, Facebook pages for marriage and family therapists like herself. She also found a group on Reddit, simply titled "Psychotherapy," where participants can bounce ideas off each other about how to settle into practice or share clinical resources. For now, Epstein says she'll settle for these "little snippets of companionship," as she calls them, until she gets to know her colleagues better. "The hard part," she says, "is that in the beginning of your career you need community the most at a time when you're least likely to have it."

Tending the Flock

Sometimes peer groups simply aren't enough. What if you need a little more guidance? If you're an aspiring or new therapist, a mentorship might be your best bet. Just how common—and crucial to professional survival—are these arrangements? According to The Clinical Supervisor, an estimated 82 percent of doctoral students are mentored. The relationship, it notes, is "extremely important for student development." According to a 2010 study in Academic Psychiatry, some minority graduate students even say that "without the support that these programs provided, they would have abandoned their academic careers."

Alexandra Solomon, a therapist and assistant professor at Northwestern University, says that today, more new graduates are going it alone, opening their own practices and finding themselves adrift without the guidance of their more seasoned colleagues. "Ten years ago," she says, "it was really unusual for a student to go from graduate school into anything that felt like private practice." Instead, many new graduates got their start at robust, federally funded agencies that shepherded them through their early careers with ample clinical supervision. With less of this support today, says Solomon, "mentorships are more important than ever."

For her part, Solomon makes a point of staying in contact with both current and former students. Some will reach out on social media to get her two cents on a difficult case. She occasionally invites the newly minted therapists to guest-lecture in her classes. And sometimes, she says, it's important to make time that's just for collegiality and support, and give the more clinical discussions a rest.

Once a year, she invites her graduate students to her house for what she calls an "unofficial focus group." She buys a few bottles of wine and snacks, and for a couple hours, everyone takes turns reading passages from a favorite therapist's new book, discusses modern trends in relationships and marriage, or chats about the latest dating app to hit the market. It's a safe, relaxed space, where Solomon says she isn't afraid to share details about her own life. "I'm bringing my whole self to the discussion," she says. "It helps me maintain the sense that whatever I do, however my professional role may change, I'm still me."

Coming Home

No matter what their specialty area or type of practice, therapists are always on the lookout for the next big clinical advance—a new approach, or tool, or research finding that will take their outcomes to a new level. But perhaps that next big thing on the therapeutic horizon will be less about what they offer their clients in the consulting room and more about what they can offer each other outside it.

Maybe, in some future therapy world, connecting deeply and frequently, face to face or even screen to screen, will be a continuing education requirement. Maybe specific training in how to build your own community support, even if you find yourself in a rural area, will become a mandatory part of every program. Maybe burgeoning clinicians won't be so often left to figure it out on their own before it's too late. In a society where loneliness seems to be a growing problem for everyone, maybe this could be the field's most transformative development yet.

***

Chris Lyford is the assistant editor at Psychotherapy Networker.
This blog is excerpted from "Creating a Web of Connection," by Chris Lyford. The full version is available in the January/February 2019 issue, Can't See the Forest? Maybe It's Time to Get Out of the Office.

PHOTO © LEONORA HAMILL

Topic: Field of Psychotherapy | Professional Development
Tags: 2018 | African American | black issues | burnout | chris lyford | civil rights | community | Community development | healthy relationships | isolation | loneliness | mentor | mentoring | Peer relationships | Professional relationships | relationship | relationships | Social support