When therapists work with anxious kids and their families, they're often solving immediate problems, not envisioning a clinical relationship that could last for decades. But that's what happened for brief therapist Lynn Lyons. Here, she talks about the unexpected pleasures of being there for her youngest clients as they grow into teens and young adults.
Lynn Lyons, LICSW, specializes in interrupting the generational pattern of worry in families. She's the co-author with Reid Wilson of Anxious Kids, Anxious Parents and author of Using Hypnosis with Children: Creating and Delivering Effective Interventions. She has a private practice in Concord, New Hampshire.
"Therapy ends for all sorts of reasons. Plenty of families see me briefly," Lynn says in her recent Networker article, "But it seems that these young clients making the transition toward adulthood may be in more need than ever for ongoing connection and an open invitation to return as needed. As I witness these young adults move into the world, this type of connection and continuity feels more vital than ever."
***
Did you enjoy this video? You might also be interested in Lynn's recent Networker article on this topic, "Bumps in the Road" in our November/December issue, A New Generation of Clients: Is Therapy Keeping Pace?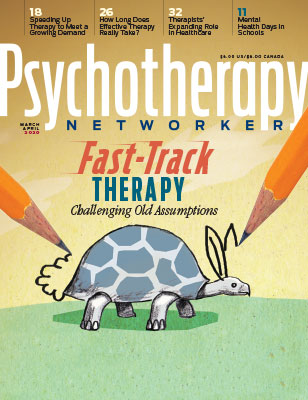 Get the latest issue of Psychotherapy Networker
Subscribe for a full year of clinical insight and creative inspiration from the field's innovators like Brené Brown, Bessel van der Kolk, Dan Siegel, Esther Perel, and many more. Plus, earn 2 CE hours every issue!
Topic: Anxiety/Depression | Children/Adolescents | Families
Tags: 2018 | Alliances | College students | families | Families & family life | kids | Lynn Lyons | Parenting | parents | rapport | relapse prevention | therapeutic alliance