How does your work as a therapist contribute to the wider world?
It's a question couples and family therapist Bill Doherty asks his colleagues often. As the founder of Citizen Therapists for Democracy, Doherty believes that therapists aren't just professionals providing a service behind closed doors, but members of a democracy with responsibilities to the larger community and public health.
In the following interview with Networker senior writer Lauren Dockett, Doherty shares what it means to be a "citizen therapist" and what you can do to take your therapeutic contributions one step further.

William Doherty, PhD, is a professor and director of the Minnesota Couples on the Brink Project at the University of Minnesota. His books include Take Back Your Marriage, Take Back Your Kids and Medical Family Therapy with Susan McDaniel and Jeri Hepworth.
Becoming a citizen therapist isn't out of reach for most therapists, Doherty notes. After all, much of our work surrounds helping our clients become agents of their own lives and, through this, advocates for their communities.
But should we speak up when political rhetoric appears to threaten community goodwill?
"Political stress can be dealt with in therapy much like other types of stress," Doherty notes. Leave an invitation in your waiting room letting clients know they can talk about politics with you if they'd like to do so. As long as it's therapeutically relevant, suggesting active coping behaviors like getting involved in community organizations, volunteering, and advocacy can breathe new life into your work that's as fulfilling for you as it is for your clients.
***

Did you enjoy this video? You might also enjoy Bill's article "New Choices for New Times," where he offers tips for practicing in today's marketplace, or other highlights from our assessment of the psychotherapy profession in Taking the Pulse of Psychotherapy: We're Older. Are We Better?, including reflections from Mary Pipher, Scott Miller, Kenneth Hardy, and more!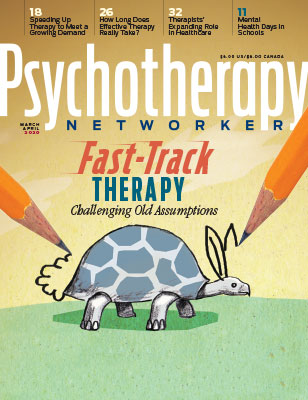 Get the latest issue of Psychotherapy Networker

Subscribe for a full year of clinical insight and creative inspiration from the field's innovators like Brené Brown, Bessel van der Kolk, Dan Siegel, Esther Perel, and many more. Plus, earn 2 CE hours every issue!