When it comes to treating anxious kids, the same rules for treating anxious adults don't apply. According to therapist Lynn Lyons, you might not only need to adjust your behavior—for instance, acting more playful or doing away with bland history-taking—but you also need to create an expansive support system that keeps the momentum from therapy gains going.
Here, Lyons shares the first steps she takes when a family with an anxious child comes into her office, as well as advice on using technology in your work.
Lynn Lyons, LICSW, specializes in the treatment of anxious families. She's the coauthor of Anxious Kids, Anxious Parents and Playing with Anxiety: Casey's Guide for Teens and Kids, and the author of Using Hypnosis with Children: Creating and Delivering Effective Interventions.
As Lyons explains, involving parents in therapy can make all the difference. Anxiety is also often a learned behavior, she adds. "I tell parents, 'if it's nature, it's you. If it's nurture, it's you,'" she says.
But the first step, Lyons says, is to normalize, normalize, normalize. "Worried parents and their anxious kids have frequently been told by professionals that their child may have a serious, possibly permanent mental illness," Lyons says in her Networker article. "A ho-hum response tends to both reassure the child and his parents that their situation isn't uniquely terrible and model for the parents a way they can lower their own emotional temperature—which is critical for calming their child."
***
Did you enjoy this video? You might also enjoy "Bumps in the Road," where Lyons shares her strategy for helping young adults navigate the inevitable bumps of new challenges, and Ron Taffel's "The Decline of Parental Authority," where he explains how a "community of learners" could be the key to raising children in an increasingly detached world.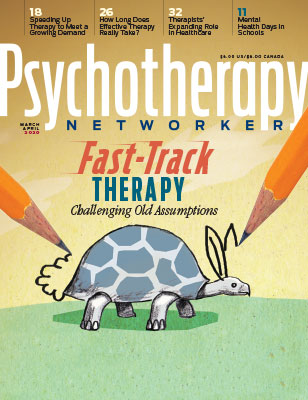 Get the latest issue of Psychotherapy Networker
Subscribe for a full year of clinical insight and creative inspiration from the field's innovators like Brené Brown, Bessel van der Kolk, Dan Siegel, Esther Perel, and many more. Plus, earn 2 CE hours every issue!