Our relational lives are undergoing a radical shift, says couples therapist Esther Perel, bestselling author of The State of Affairs and Mating in Captivity. But in a never-before seen romantic landscape where we have unprecedented choice—and with it, unprecedented levels of anxiety—what role can therapists play in helping clients navigate these changing times?
In the following video clip from her 2018 Networker Symposium Keynote, "The Future of Modern Love," Perel explains how far we've come from the relationship norms of yesteryear, and why, when it comes to romance, our clients need us now more than ever.
Esther Perel, MA, LMFT, is New York Times bestselling author of The State of Affairs and Mating in Captivity. Her TED talks have nearly 20 million views, and she leads the online clinical training platform "Sessions with Esther Perel."
As Perel notes, for perhaps the first time in human history, relationships have become conversations and negotiations—with ourselves and with our partners. Who is going to be the breadwinner? Who is going to plan the next date? Who is going to negotiate sex? Where should I live? Am I happy? Am I happy enough? When should I have children? Do I even want children? These are just a few questions we're asking ourselves in the new culture of romance.
But therapists, she adds, play an invaluable role in helping people have these conversations. When they enter our offices for the first time, she says, many clients have rarely—if ever—had these conversations before. "We are the people who create that space," she says, "for security, for structure, for calmness, for reassurance."
***
Did you enjoy this video? You might also enjoy Sue Johnson's Networker article "The Dance of Sex." Or, check out our other articles on intimacy and couples from Esther Perel, Michele Weiner-Davis, Susan Johnson, and more in our issue, "Speaking of Sex: Why Is It Still So Difficult?"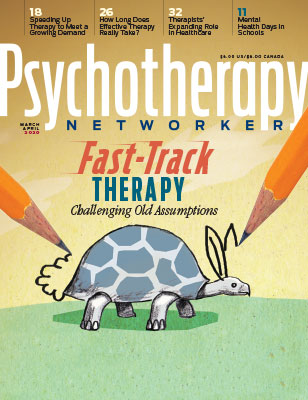 Get the latest issue of Psychotherapy Networker
Subscribe for a full year of clinical insight and creative inspiration from the field's innovators like Brené Brown, Bessel van der Kolk, Dan Siegel, Esther Perel, and many more. Plus, earn 2 CE hours every issue!