"Building a Bridge" from the Old Brain to the New Brain
Is it possible to overcome the typical oppositional response of a client with anger issues? According to Ron Potter-Efron, the key to working effectively with anger is first defusing reactivity by building a bridge from the response of the "old brain" to the "new brain." In this video clip, he explains how it's done.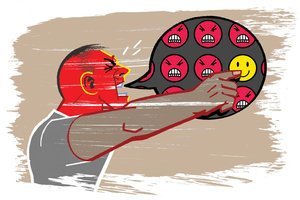 Using Brain Science to Invest Men in Anger Management
By Ron Potter-Efron - Over the past 30 years, I've spent nearly 25,000 hours counseling angry men. For many, anger is the only weapon they've ever had against feelings of powerlessness. But what I've found is that these men are fascinated by information about how anger develops in the brain, and how they're capable of literally using their own brains to calm down.