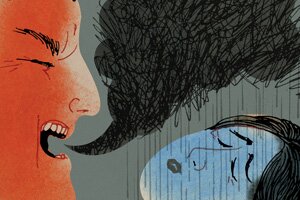 Helping Couples Work Through Old Character Attacks
By Ellen Wachtel - I used to believe that if a couple was getting along and behaving in a loving way to one another, hurtful and even cruel words would naturally fade into the background. But I've frequently seen couples in which hurt spouses may forgive their partner for the harsh words spoken in anger, but nonetheless remain haunted by some biting comment that continues to sting long after the argument is over.
...And Why Good Treatment Means Holding Wrongdoers Accountable
By Harriet Lerner - There's no greater challenge than listening to the anger and pain of someone who's accusing us of causing it. To do so, people need to have a solid platform of self-worth to stand on, from which they can look out at their bad behavior and apologize because they see their mistakes as part of a much larger, complex picture of who they are as a human being.