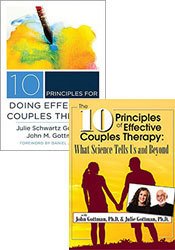 Product Details
Format:

Package - Audio & Book Instructions

Authors:

JULIE GOTTMAN, PH.D.
JOHN M. GOTTMAN, PH.D.
ESTHER PEREL, MA, LMFT

Publisher:

Psychotherapy Networker & PESI, Inc.

Copyright:

3/28/2015

CE Available:

Yes, See CE credit tab for complete continuing education details

Product Code:

RKIT049445
Objectives
[+]
[-]
048565 - The 10 Principles of Effective Couples Therapy:
Relate Gottmans' 40 years of research on the dynamics of couples relationships to their principles of effective couples therapeutic assessment and clinical interventions
Breakdown Gottmans' Sound Relationship House Theory as it relates to achieving desired treatment outcomes
Articulate the principles of effective couples therapy that help to inform the clinician's choice of treatment interventions
Summarize the components of a comprehensive couples assessment as it relates to clinical case conceptualization
Apply clinical interventions that increase couples' ability to manage conflict, create intimacy, foster fondness and admiration, and create a positive perspective of their relationship
Teach clients the 5 steps of relationship repair for processing past fights, regrettable incidents or past emotional injuries.
Outline
[+]
[-]
048565 - The 10 Principles of Effective Couples Therapy:
What is True About Couples?
Findings Regarding Friendship
Findings Regarding Conflict Management
The Four Horsemen of the Apocalypse

Criticism
Contempt
Defensiveness
Stonewalling

Characteristics of Creating Shared Meaning
Sound Relationship House Therapy
Principles of Doing Good Couples Therapy
How to Assess

Oral History
Questionnaires
Individual Assessments
Conflict Management

Exercises

Love Map
Open-Ended Questions
Stress-Reducing Conversation
Rituals of Connection
Strengthening Sexual Intimacy
Creating Shared Meaning
Author
JULIE GOTTMAN, PH.D.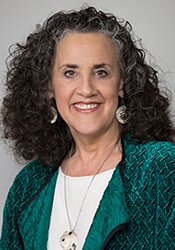 Julie Schwartz Gottman, Ph.D.,
is the co-founder and President of The Gottman Institute, and Clinical Supervisor for the Couples Together Against Violence study. A highly respected clinical psychologist, she is sought internationally by media and organizations as an expert advisor on marriage, sexual harassment and rape, domestic violence, gay and lesbian adoption, same-sex marriage, and parenting issues. Creator of the immensely popular The Art and Science of Love weekend workshops for couples, she also designed and leads the national certification program in Gottman Method Couples Therapy for clinicians. Her other achievements include: Washington State Psychologist of the Year; Author/co-author of five books, including,
Ten Lessons to Transform Your Marriage, And Baby Makes Three, The Marriage Clinical Casebook, 10 Principles for Doing Effective Couples Therapy,
and
The Man's Guide to Women;
Wide recognition for her clinical psychotherapy treatment, with specialization in distressed couples, abuse and trauma survivors, substance abusers and their partners, and cancer patients and their families.
Inspiring, empowering, respectful, and kind, Julie's leadership of The Gottman Institute has made it possible to identify and integrate the expertise of her staff, therapists, and the wider research and therapeutic community. Her commitment to excellence and integrity assures that as The Gottman Institute grows, it continues to maintain the highest ethical and scientific standards.
She is in private practice in the Seattle area, providing intensive marathon therapy sessions for couples. She specializes in working with distressed couples, abuse and trauma survivors, those with substance abuse problems and their partners, as well as cancer patients and their families.
Drs. John and Julie Gottman currently live on Orcas Island, near Seattle, Washington. They conduct weekly and intensive couples therapy sessions, provide small group retreats, teach workshops and clinical trainings, and give keynote presentations around the world.
Speaker Disclosures:
Financial: Julie Gottman is the co-owner of The Gottman Institute. She is an author and receives royalties.
Non-financial: Julie Gottman has no relevant non-financial relationship to disclose.
JOHN M. GOTTMAN, PH.D.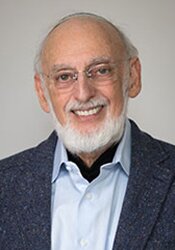 John Gottman, Ph.D.,
is Professor Emeritus of Psychology at the University of Washington, where he established "The Love Lab" and conducted much of his award-winning research on couple interaction and treatment. Dr. Gottman has studied marriage, couples, and parent relationships for nearly four decades. He has authored or co-authored over 200 published articles and more than 40 books, including:
The Seven Principles for Making Marriage Work, The Relationship Cure, Raising an Emotionally Intelligent Child: The Heart of Parenting,
and
The Man's Guide to Women.
World renown for his work on marital stability and divorce prediction, Dr. Gottman's research has earned him numerous national awards, including: Four five-year-long National Institute of Mental Health Research Scientist Awards; The American Association for Marriage and Family Therapy Distinguished Research Scientist Award; The American Psychological Association Division of Family Psychology Presidential Citation for Outstanding Lifetime Research Contribution; The National Council of Family Relations 1994 Burgess Award for Outstanding Career in Theory and Research.
Dr. Gottman, together with his wife Dr. Julie Schwartz Gottman, is the co-founder of The Gottman Institute, which provides clinical training, workshops, services, and educational materials for mental health professionals, couples, and families. He is also the co-founder and Executive Director of the Relationship Research Institute which has created treatments for couples transitioning to parenthood and couples suffering from minor domestic violence.
Dr. Gottman has presented hundreds of invited keynote addresses, workshops, and scientific presentations to avid audiences around the world including Switzerland, Italy, France, England, Israel, Turkey, South Korea, Australia, Canada, Sweden, and Norway. A wonderful storyteller and expert, Dr. Gottman has also appeared on many TV shows, including
Good Morning America, Today, CBS Morning News,
and
Oprah,
and he has been featured in numerous print articles, including
Newsweek, The New York Times, The Washington Post, Los Angeles Times, Ladies Home Journal, Redbook, Glamour, Woman's Day, Men's Health, People, Self, Reader's Digest,
and
Psychology Today.
Speaker Disclosures:
Financial: Dr. John Gottman is the co-owner of The Gottman Institute. He is an author and receives royalties.
Non-financial: Dr. John Gottman has no relevant non-financial relationship to disclose.
ESTHER PEREL, MA, LMFT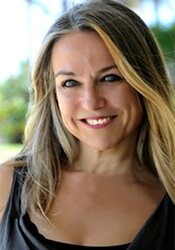 Esther Perel, MA, LMFT,
is recognized as one of the most insightful and provocative voices on personal and professional relationships and the complex science behind human interaction. She is the best-selling author of
Mating in Captivity: Unlocking Erotic Intelligence
(translated into 25 languages) and producer of the online training continuation, Rekindling Desire.
Fluent in nine languages, the Belgian native is a practicing psychotherapist, celebrated speaker and organization consultant to Fortune 500 companies. The
New York Times,
in a cover story, named her the most important game changer on sexuality and relationships since Dr. Ruth.
Her critically acclaimed viral TED Talks (The secret to desire in a Long-term Relationship, February 2013 and Rethinking Infidelity .. a Talk for Anyone Who has ever Loved, May 2015) have collectively reached over 14 million viewers.
Known for her keen cross-cultural pulse, Esther shifts the paradigm of our approach to modern relationships. She is regularly sought around the world for her expertise in relational health and communication, team building, erotic intelligence, couples and family identity, work-life balance, and corporate relationships. Her clients and platforms include companies such as Nike, Johnson & Johnson, the Open Society Institute, Tony Robbins Productions, Brighthouse Consulting, Summit Series, Founder's Forum, PopTech, Young Presidents Organization, Entrepreneur Organization, and the Bronfman Foundation.
Esther's innovative models for building strong and lasting relationships have been widely featured in the media across 5 continents spanning
The New York Times, The Washington Post, The Wall Street Journal, Forbes, Le Monde, Ha'Aretz
and
The Guardian, The New Yorker, Fast Company,
and
Vogue.
She is a frequent guest on radio and television shows including NPR's "Brian Lehrer show", "Oprah", "The Today Show", "Dr. OZ" and "The Colbert Report". For more information about her educational programs and resources, please visit:
www.estherperel.com
Speaker Disclosures:
Financial: Esther Perel is in private practice. She receives a speaking honorarium from PESI, Inc.
Non-financial: Esther Perel is a member of the American Family Therapy Academy (AFTA); The Society for Sex Therapy and Research (SSTAR); and the American Association for Sexuality Educators, Counselors and Therapists (AASECT).
Continuing Education Credits Awarded for Completion of Entire Package
[+]
[-]
Combined Continuing Education Credit From All Components
Breakdown of Continuing Education Credits by Components
[+]
[-]
048565 - The 10 Principles of Effective Couples Therapy:
[+]
[-]
084110 - 10 Principles for Doing Effective Couples Therapy
Audience
Addiction Counselors, Marriage and Family Therapists, Nurses, Psychologists, Social Worker
Satisfaction Guarantee
Your satisfaction is our goal and our guarantee. Concerns should be addressed to Psychotherapy Networker, 5135 MacArthur Boulevard N.W., Washington, D.C. 20016 or call (888) 851-9498.

ADA Needs
We would be happy to accommodate your ADA needs; please call our Customer Service Department for more information at (888) 851-9498.